Do you ever wonder where we fish on the Chesapeake Bay, what fish are available on the Chesapeake Bay, how we fish on the Cheasapeake Bay, or what you should bring if you book a Chesapeake Bay fishing charter? Well, you've come to the right place!! Below, we will discuss all of these items and so much more!
Where Do You Guys Run Chesapeake Bay Fishing Charters?
We usually fish right out in front of Hoopers Island, on the Chesapeake Bay. This is especially true in the spring and late fall seasons, when we troll for those BIG striped bass on the bay. Directly across the bay from us is the Patuxent River, which leads into Solomons Island. While we usually stay fairly close to home on Hoopers Island, we will go where the fish are, even if it involves moving the boat. Sometimes, we fish out of Taylors Island to be closer to that summertime rockfish bite that goes on further up the bay in the areas of Poplar Island and Kent Island. During the late fall months, we might fish further down the bay, toward Point Lookout and Virginia.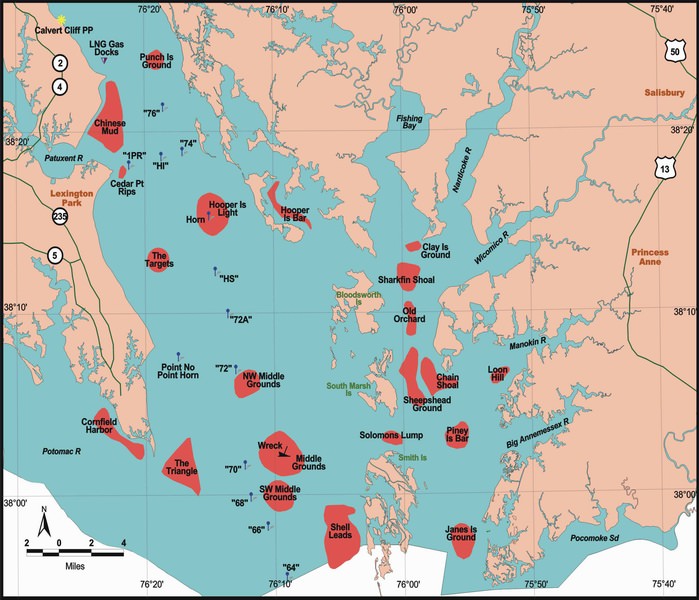 Map of the Middle Chesapeake Bay - From MD Dept. of Natural Resources
What Fish Do You Guys Target On The Chesapeake Bay?
Most of our Chesapeake Bay fishing charters involve the pursuit of Maryland rockfish, also known as striped bass or stripers. These fish can range anywhere from 18 inches on up to over 50 inches, depending on the time of year and the fishing method being used. We may also pursue other species such as bluefish, white perch, and spot. A lot of times, if we catch our limit of Chespeake Bay striped bass early, we will change things up and pursue some of the other species that are nearby.
What Chesapeake Bay Fishing Methods Do You Guys Use?
Trolling
We use several different fishing methods on our Chesapeake Bay fishing charters, depending on what is most effective at the time. When we fish for the BIG trophy striped bass in the spring and late fall, trolling is the most effective fishing method. We will troll back and forth across the Chesapeake Bay with the use of planer boards, which allow us to pull up to 24 lines at one time as well as cover not only the water column under the boat, but also the water on each side of the boat out to 200 feet! We use heavy-duty rods and reels with 80-pound test fishing line, along with artificial baits and umbrella rigs. When pulling so many lines, the baits in the water resemble a large school of bait fish, which is what Chesapeake Bay rockfish will go after when they're hungry!
Sometimes, we will also troll in the summer months. In the summer, the striped bass tend to be smaller (18-28 inches). We use the same kind of tackle, except that the baits are a lot smaller. We also don't pull as many lines, for the sake of mobility. A lot of times during the summer, you will see schools of striped bass breaking the water in the midst of bait pods, with clusters of birds gathering on the surface. When you see this, you have to get over there fast. So, in these instances, not pulling the planer boards works in our favor.
We also use trolling when we fish for bluefish, generally between the months of August and October. The bluefish that we catch in the bay are anywhere from 1 to 5 pounds, and they usually school up just like the stripers. When we troll for bluefish on the Chesapeake Bay we use the same rods and reels, but we use spoons and hoses for the lures. When you get into a school of bluefish, it is not uncommon to have every rod on the boat hook up!
Trophy Chesapeake Bay Rockfish Caught While Trolling
Live-Lining
As its name implies, live-lining involves the use of live bait to catch fish. We use this technique during the summer and early fall to catch striped bass. The bait that we use are known as spot fish. You insert the tines of a treble hook into the back of the spot. The hook is on 30-pound test line that is spooled on a spinning reel. You toss the spot overboard, and allow the line to spool out. Striped bass cannot resist the presence of spot fish, and will chase after them with a vengeance. When there are plenty of fish around, you can catch your legal limit of Chesapeake Bay rockfish in a hurry, especially if there are a lot of spot in the area. It is also quite fun, as you actually get to hook the fish before reeling it in. You don't have this luxury while trolling.
We also will live-line for bluefish when they are mixed in with the stripers. When doing this, we will often use metal leaders on the hooks in order to keep from losing tackle. Bluefish have razor-sharp teeth and will bite through any line.
For more details about live-lining, check out my article on it here!
Striped Bass Caught While Live-Lining
Bottom Fishing
We also do bottom fishing on the Chesapeake Bay, when we are in search of white perch, spot, and croakers. Just like when we live-line, we use light tackle and spinning reels. On each line, we use a bottom rig that has two hooks and a 3-ounce sinker, depending on how hard the current is moving. When we fish for spot, which is what most of our Chesapeake Bay fishing charters do before live-lining for rockfish, we use bloodworms for bait. Our fishing parties sometimes have more fun fishing for spot than they do for the striped bass! When fishing for white perch, we will generally use peeler crabs. While fishing for croakers, we often use pieces of squid.
What Are Your Chesapeake Bay Fishing Seasons?
Here is a breakdown of our fishing seasons on the Chesapeake Bay!
May 1 through May 15
During this stretch of time, we are exclusively trolling for those BIG trophy Chesapeake Bay striped bass. We pull up to 26 lines at a time, using heavy-duty tackle. The stripers this time of year range anywhere from 28 inches on up to over 50! The legal limit on these striped bass for 2022 is one per person, and every fish has to be at least 35 inches in length.
May 16 through July 15, and August 1 through December 10, 2022
Once we get into late May, the trophy Chesapeake Bay migratory rockfish are leaving town, and we start catching the smaller resident fish. These fish are typically between 18 and 24 inches, but can range up to 32 inches or more. In late May and early June, we will usually troll just like in the spring, except that we use smaller tackle and pull fewer lines. The legal limit on striped bass during this time of year for 2022 is two fish per person with a 19" minimum length. Of these fish, only one per person can be longer than 28 inches.
Once we get into June and the spot start showing up in the Chesapeake Bay, we'll switch over to live-lining. During this time of year, we take our Chesapeake Bay fishing charters out bottom fishing for spot prior to live-lining for rockfish. Hey, somebody's got to catch the bait! The bulk of our Chesapeake Bay fishing customers have a blast with this type of fishing and come back to us year after year. Live-lining will usually go on through October.
We also do quite a bit of bottom fishing during the summer months, especially when fishing for spot and white perch.
November until December 10
When the weather cools off in November, the spot will usually leave town, requiring us once again to resort to trolling in order to catch our fish. Early in November, we usually troll with 6 to 8 lines with smaller baits. Then, later in November and into December, those BIG migratory fish sometimes make their way up the bay. When and if that happens, we will break out the planer boards, and troll with the full spread. Our season then ends on December 10.
What Are The Limits For Chesapeake Bay Fishing In Maryland?
Here's a breakdown of all of the legal limits in Maryland for fishing on the Chesapeake Bay.
Striped Bass

Until May 15: One per person. Fish must be at least 35 inches in length.

May 16 through July 15, and August 1 through December 10: Two per person, fish must be at least 19" long. Only one per person can be over 28".

Bluefish
Minimum Length: 8". Limit: 5 per person.
Croakers
Minimum Length: 9". Limit 25 per person.
White Perch
No minimum length and no limit, as long as they're caught with hook and line!
Spanish Mackerel
Minimum Length: 14". Limit 15 per person.