Sawyer Fishing Charters & Chesapeake Bay Tours
Chesapeake Bay Fishing Reports & Maryland Fishing Information
Chesapeake Bay Fishing Reports From Capt. Dave Schauber!

Access the latest Chesapeake Bay fishing report on Maryland's Chesapeake Bay and find out what we're up to, right here at SawyerCharters.com!

Just 40 minutes south of Cambridge, MD!

Fishing the Chesapeake Bay in the areas of Hoopers Island, Taylors Island, Poplar Island, and Kent Island! We go where the fish are!

For fishing charter booking information, please click here.

Contact us at
(410) 397-3743

sawyercharters@yahoo.com

Easy access from the Ocean Gateway (Rt 50) from Annapolis, Baltimore, Ocean City,

Pennsylvania, Virginia or Delaware
---
Chesapeake Bay Fishing Report on the Sawyer
2018 MARYLAND FISHING REPORT
Chesapeake Bay Fishing Report: August 16, 2018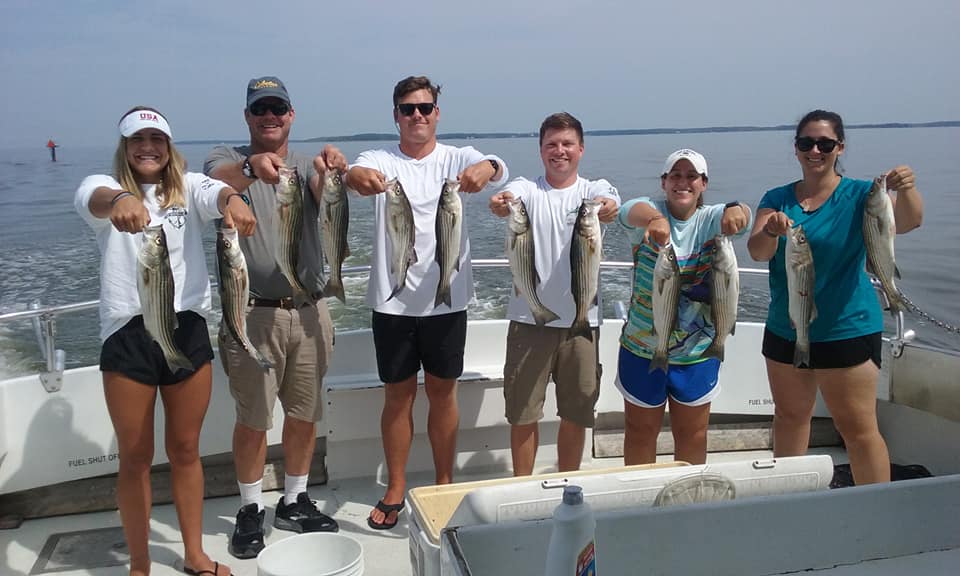 Do you have a family reunion coming up and are looking for something to do? Do like this crew and join us for a Chesapeake Bay fishing charter, fishing for rockfish with light tackle and live bait! These folks joined us bright and early this morning, and had no trouble limiting out on rockfish with live spot for bait! If you enjoy "live-lining," well, here you go! In addition to a limit of stripers, they also caught a few bluefish, and did some bottom fishing. Another fantastic day of fishing on the Chesapeake Bay!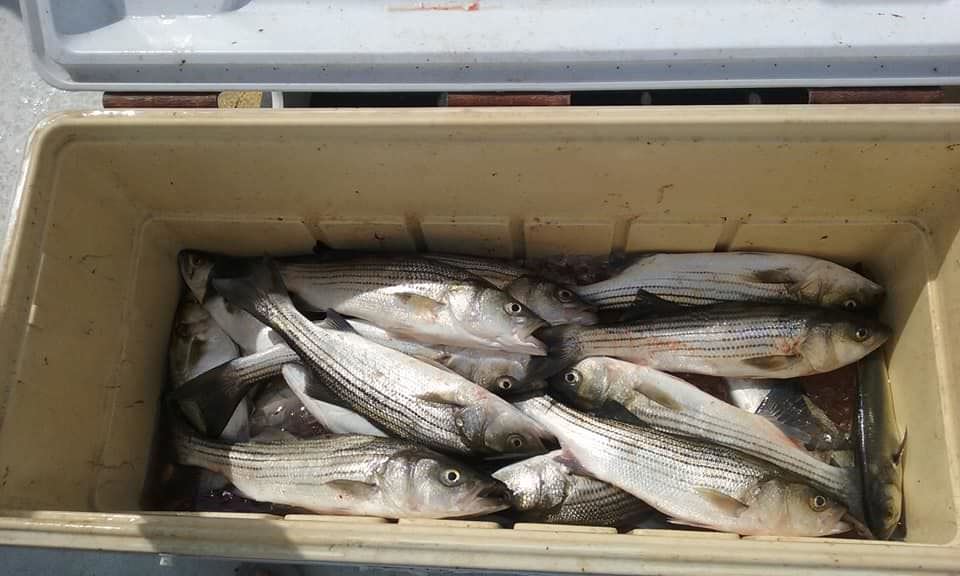 Chesapeake Bay Fishing Report: August 12, 2018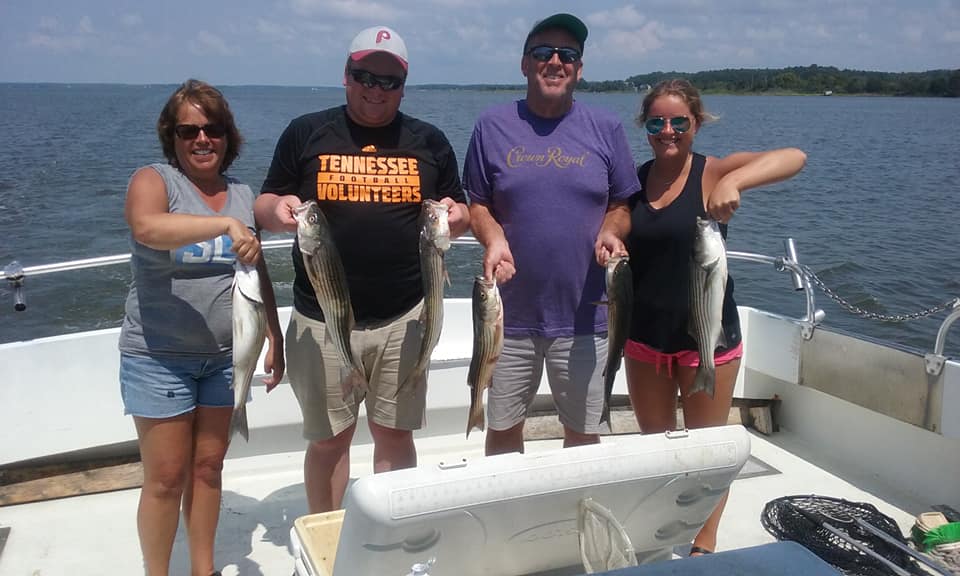 After a few weeks of tour bookings, we were back at Taylors Island, fishing for striped bass. This family was in town today from Illinois, and decided to add a Chesapeake Bay charter fishing experience to their time in the area. We left the dock bright and early, and got out to the fishing grounds, but the fishing was really slow. We ended up going north a bit, where we had been earlier this summer. The fishing there turned out to be really good, as these folks limited out on rockfish, and caught a few bluefish to go along with it! We're still chumming for stripers, but we also caught a few of them with live spot. This bodes well for the rest of the summer!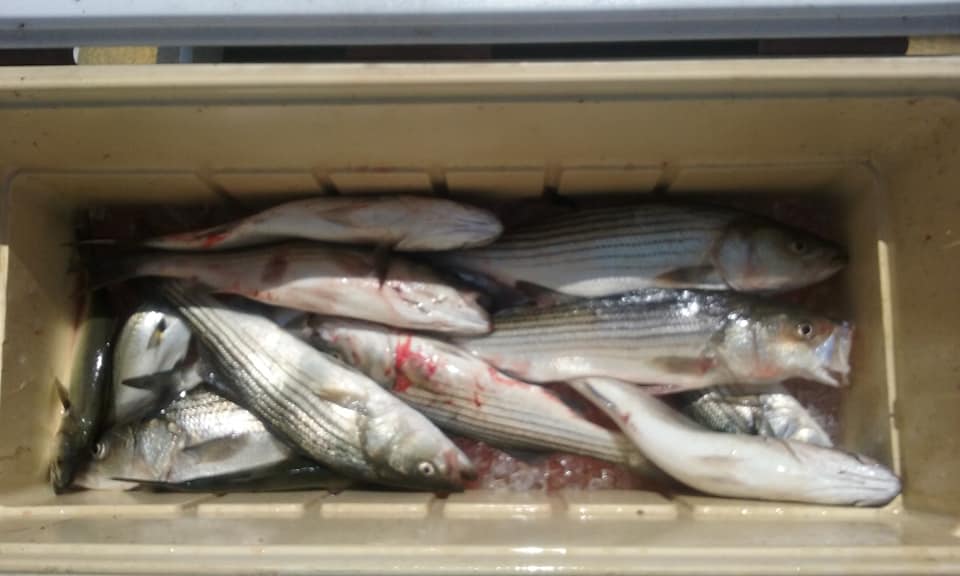 Chesapeake Bay Fishing Report: July 19, 2018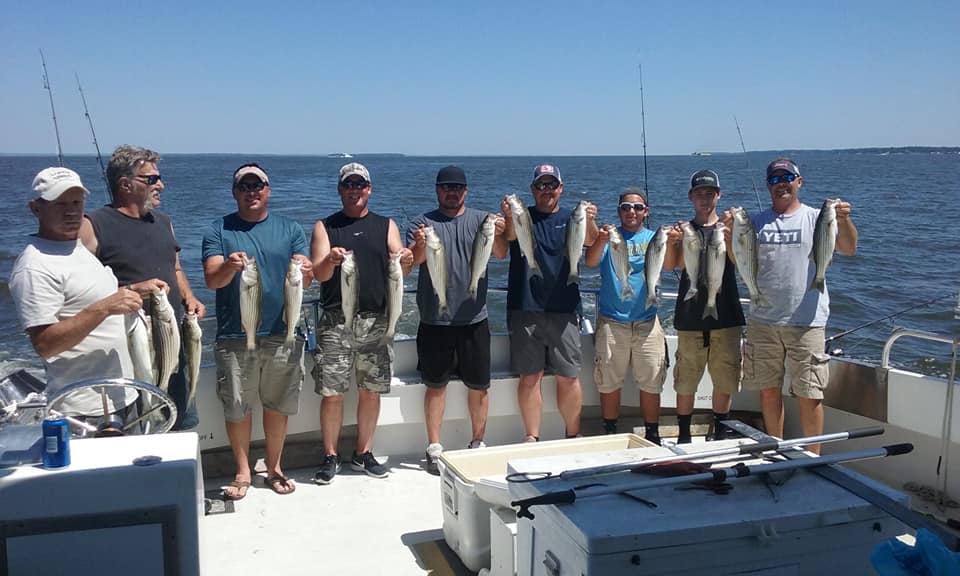 It was another fine day of fishing this morning out of Kent Narrows! We've known this one guy for several years, but we hadn't been able to get him to book a Chesapeake Bay striped bass fishing charter until now. Fishing out of Kent Narrows puts us a lot closer to our customers. He finally got together a group and the picture above shows how they made out. Another limit of rockfish!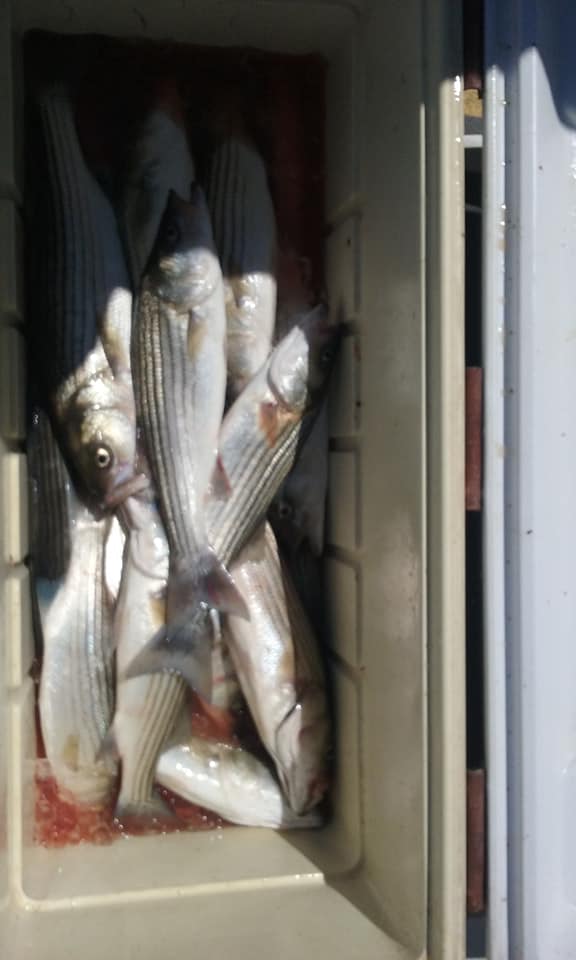 Chesapeake Bay Fishing Report: July 18, 2018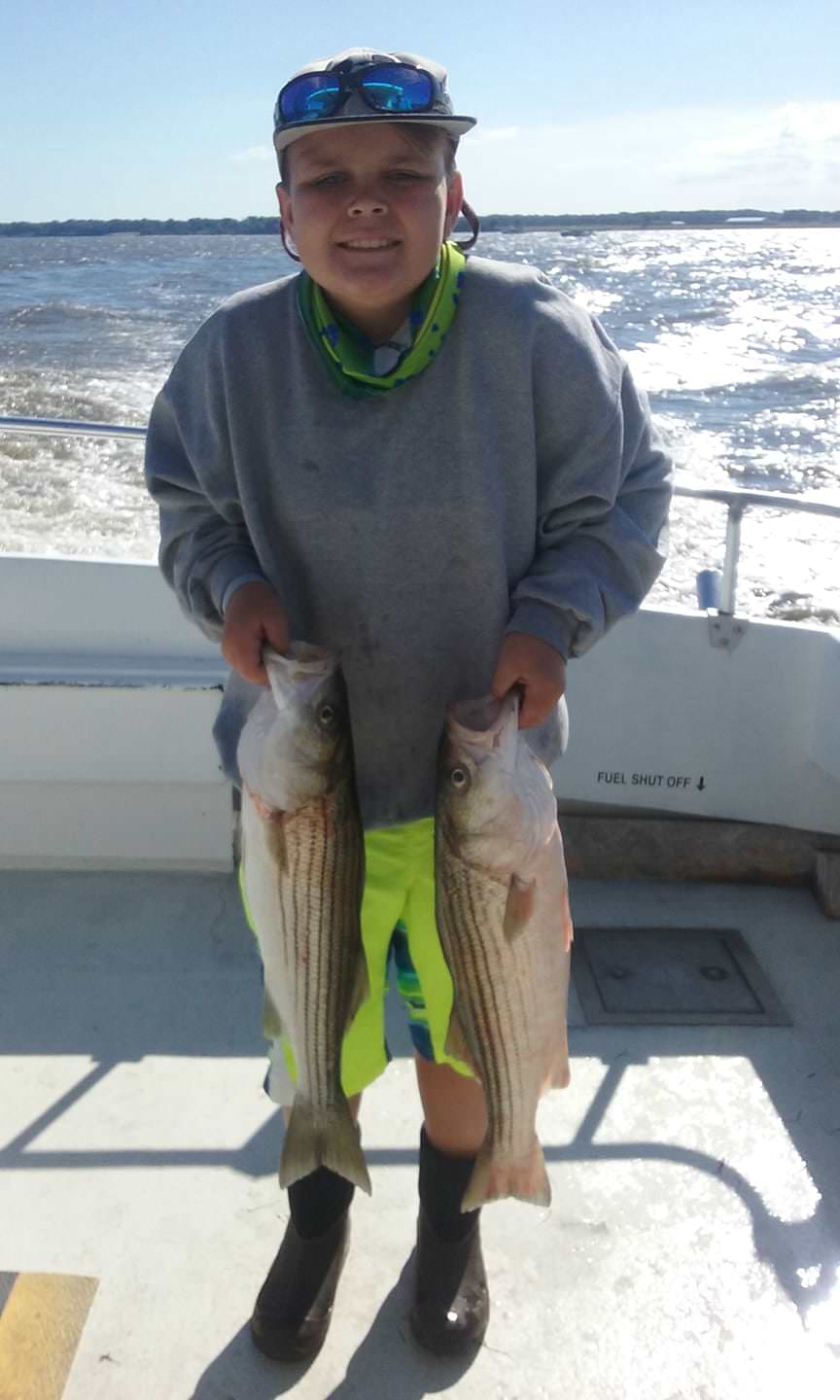 We had two Chesapeake Bay fishing charters today. The first one was a grandfather who decided to take his grandson fishing while on vacation. The above picture shows that the grandson was pretty happy! He caught plenty of fish and outfished his granddad! After limiting out on striped bass, we did some bottom fishing for white perch.

The below picture is from our afternoon trip. These folks were from all over the country and had gathered nearby for a business conference. They decided to do a fishing trip with us while they were in town. They did not leave disappointed! They caught their limit of rockfish and arranged for a nearby restaurant to cook their catch!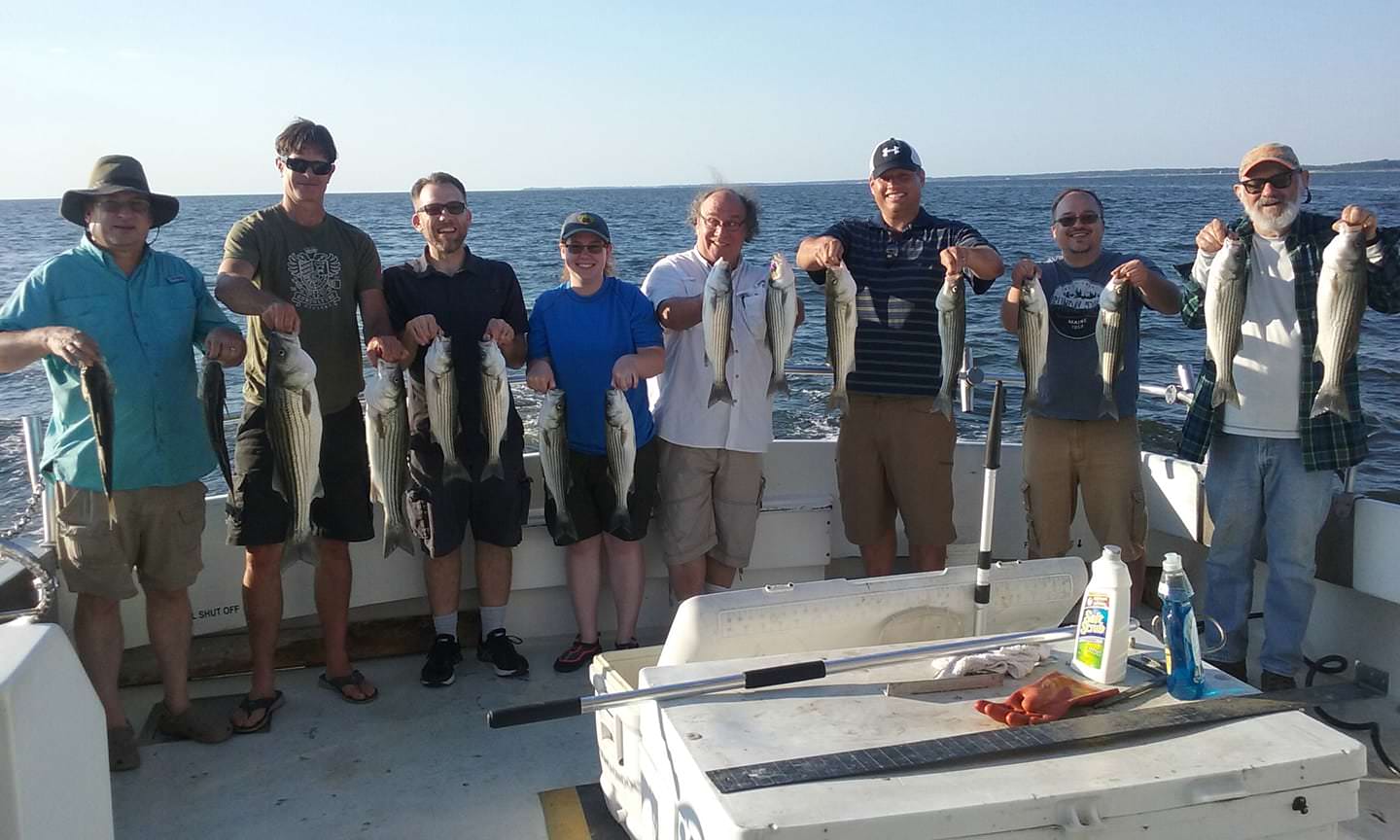 Chesapeake Bay Fishing Report: July 17, 2018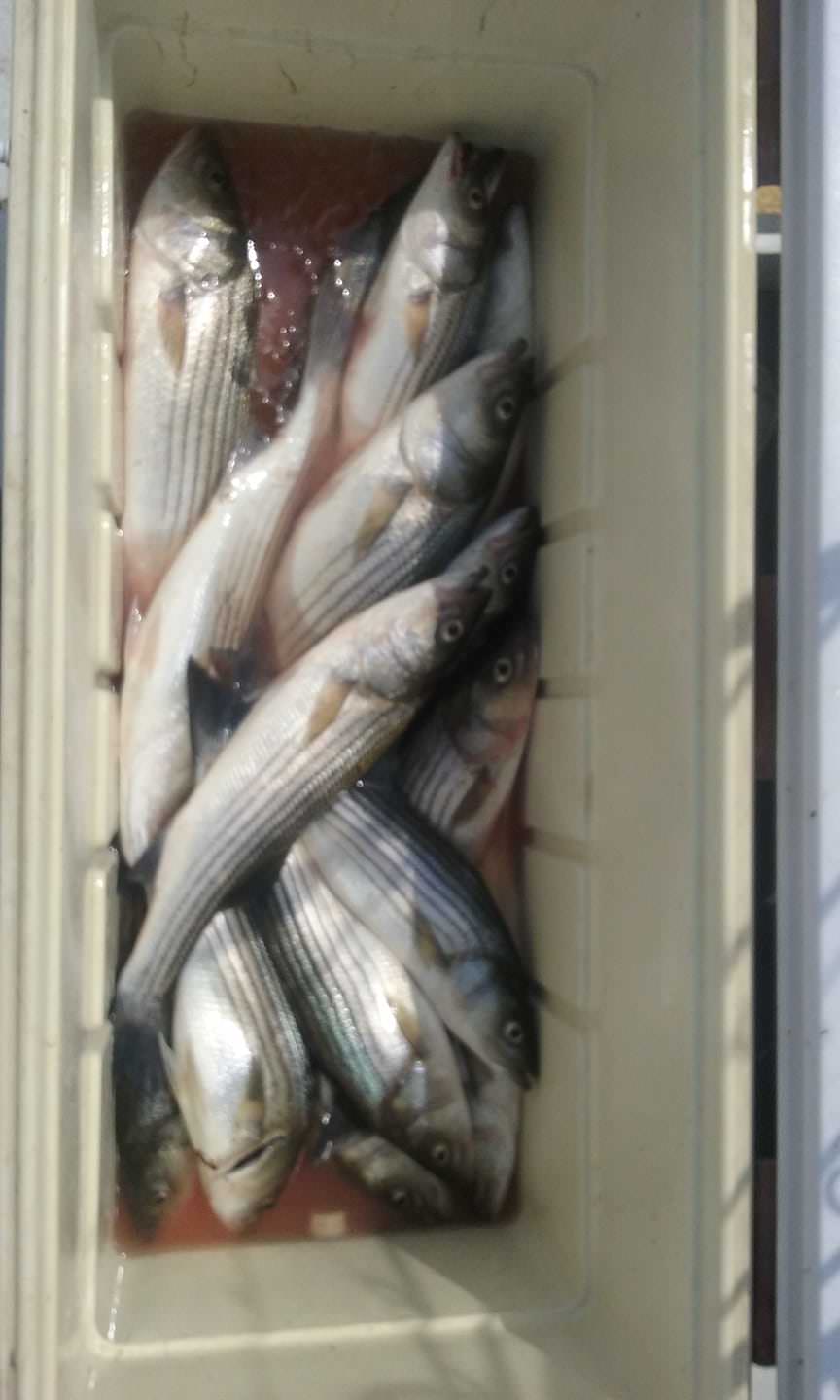 Here is yet another cooler full of Chesapeake Bay rockfish, caught with light tackle! We had a group of farmers out with us, and they had no trouble limiting out on striped bass! We were able to limit out and get back to the dock at Kent Narrows just before the thunderstorms hit. Not only were the farmers happy with their fish, but they were also happy for the rain!
Chesapeake Bay Fishing Report: July 15, 2018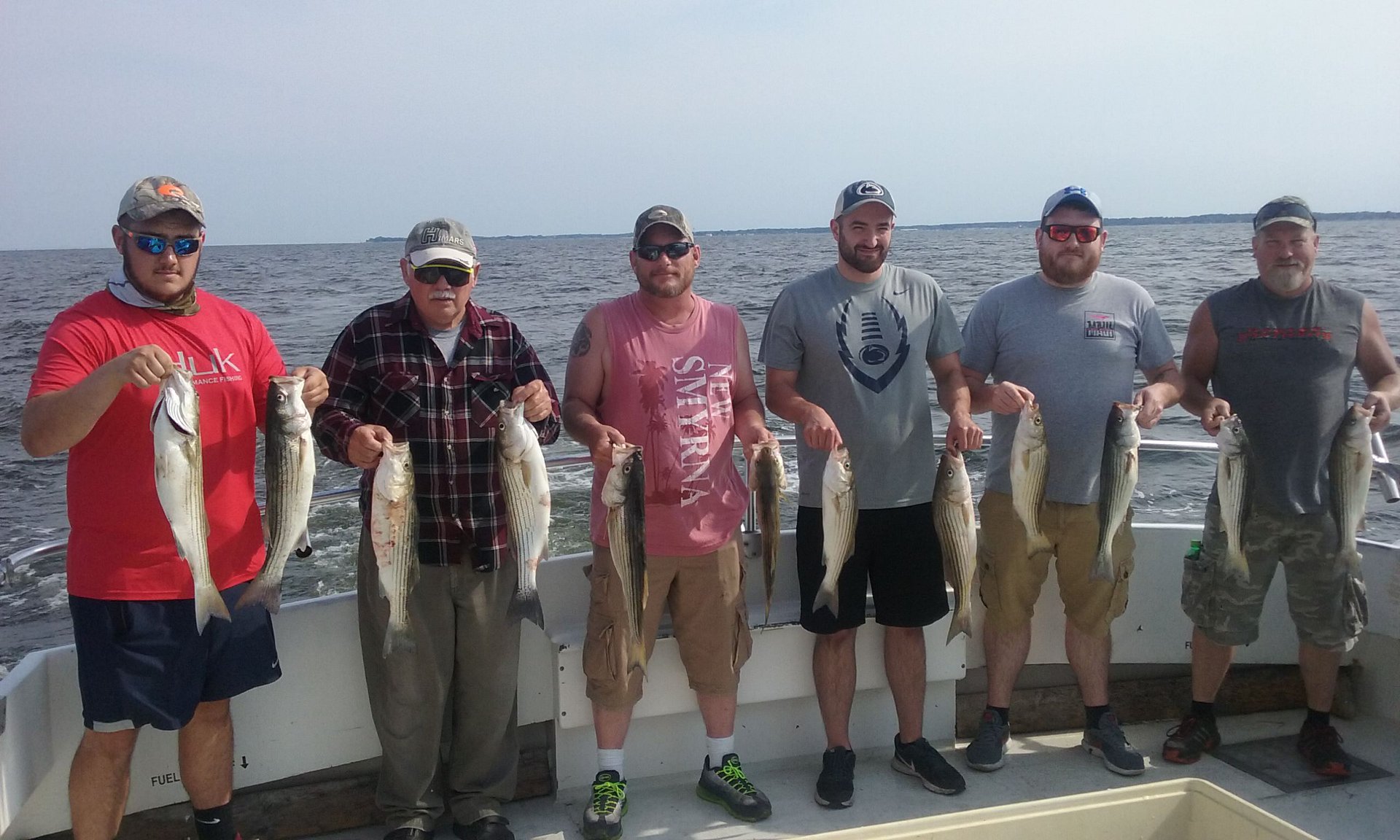 The Chesapeake Bay striped bass fishing out of Kent Narrows was great again this morning! This crew limited out on rockfish in pretty short order with chum and light tackle! A very happy bunch of anglers! We will be at Kent Narrows all this week, so if you have a date in mind and wanna go, just let us know!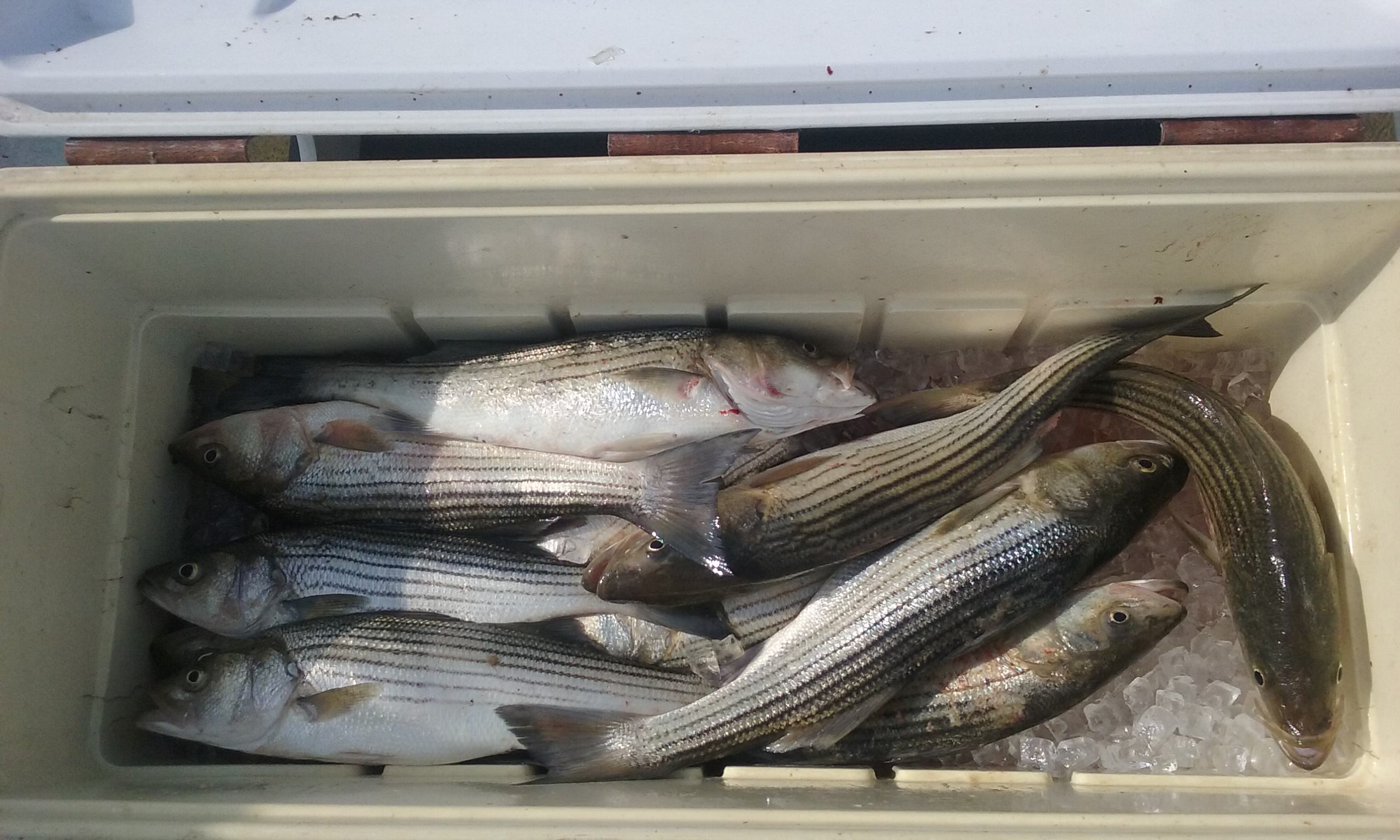 Chesapeake Bay Fishing Report: July 14, 2018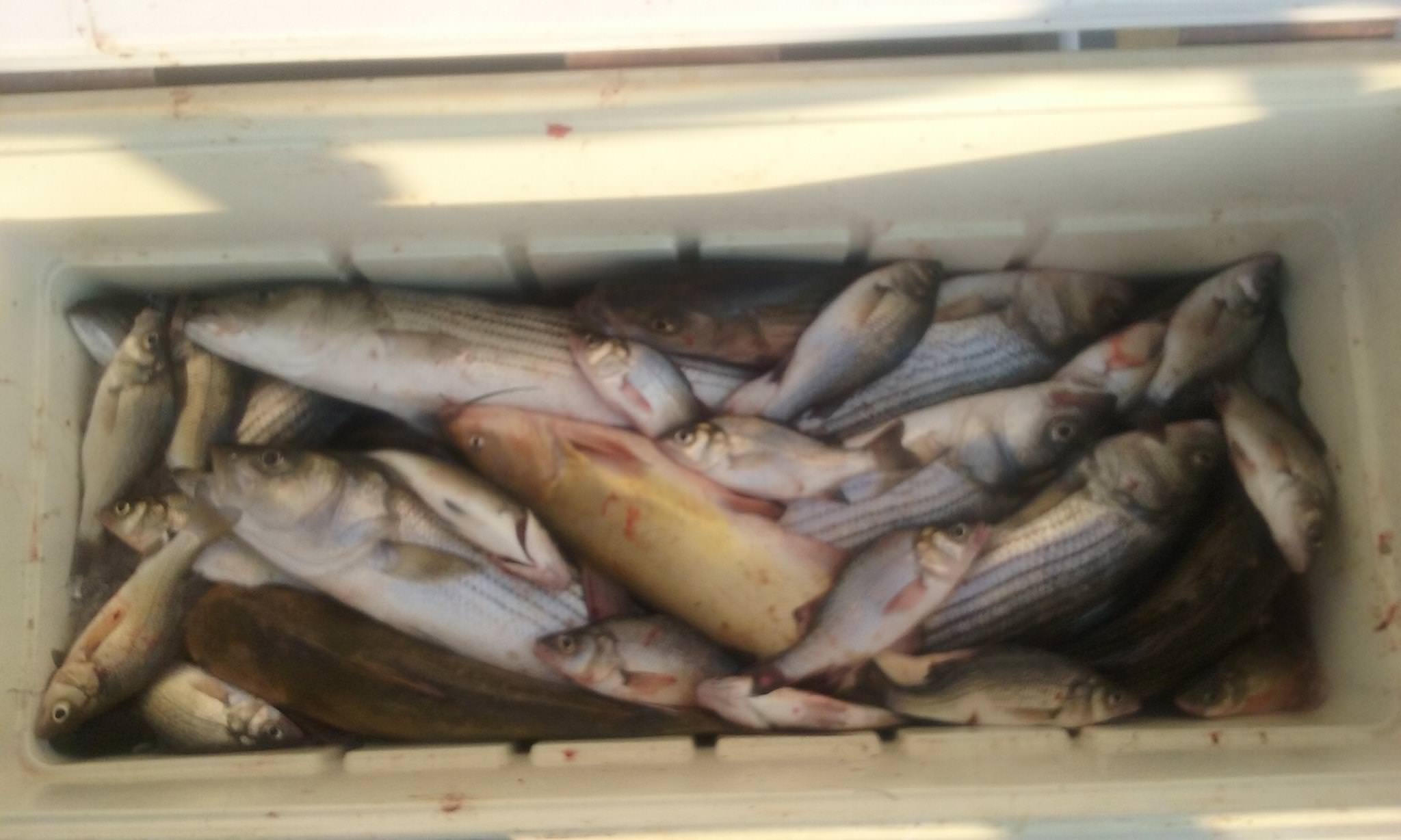 The crew that fished with us today has been on Chesapeake Bay fishing charters with us for almost 20 years! We left this afternoon out of Kent Narrows, and the fishing was great! These guys limited out on Chesapeake Bay striped bass, and then we went bottom fishing. They caught a bunch of white perch, and even a couple of catfish! Another great day on the Chesapeake Bay!
Chesapeake Bay Fishing Report: July 13, 2018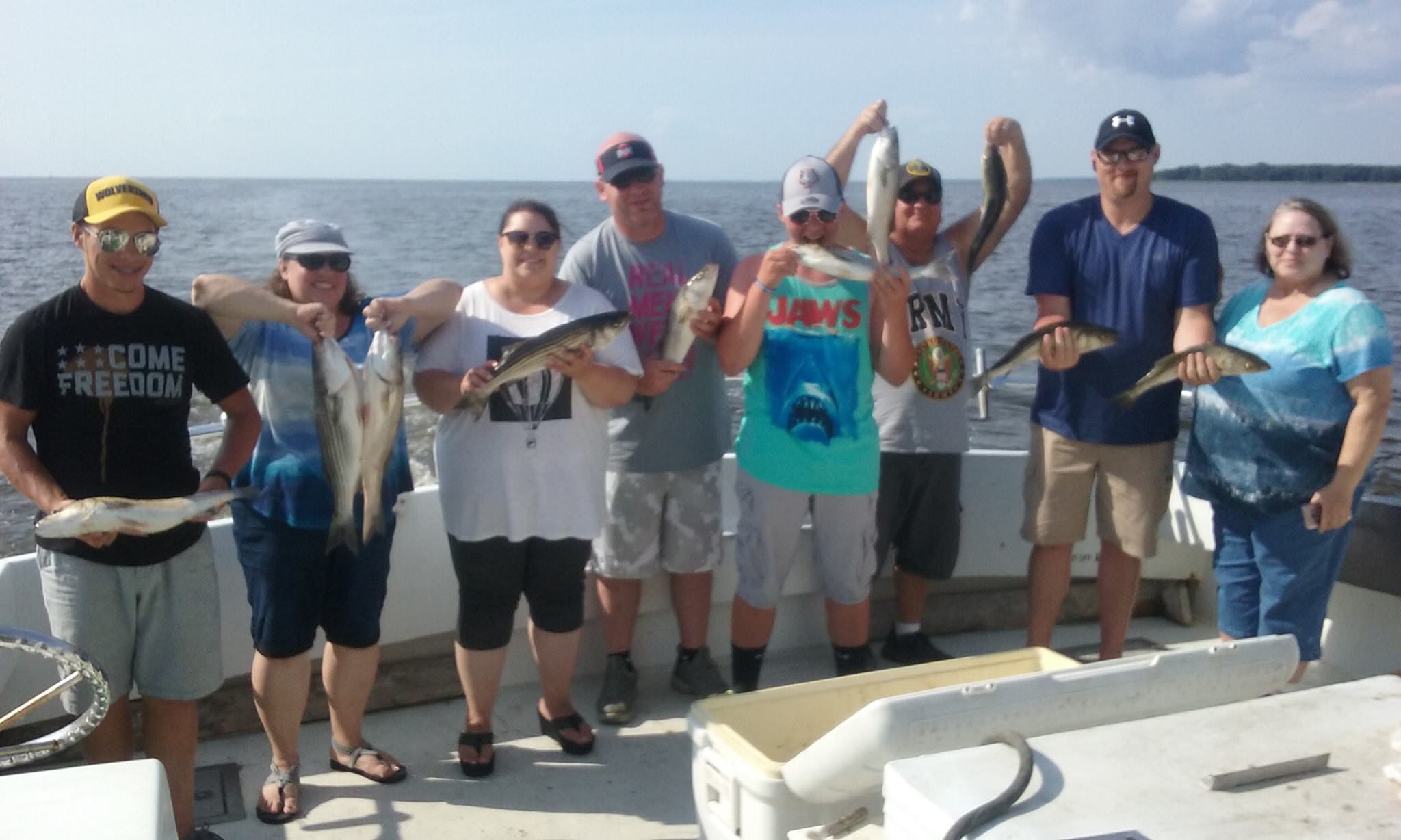 This is the first time that this crew has gone out with us, fishing on the Chesapeake Bay, and hopefully not their last! Right now, we are fishing out of Kent Narrows. The fish have moved up the bay and so have we! These folks had no trouble limiting out on rockfish with light tackle! This fishing is good for people of all skill levels. We will be at Kent Narrows all this coming week, so if you have a group that wants to go, give us a call!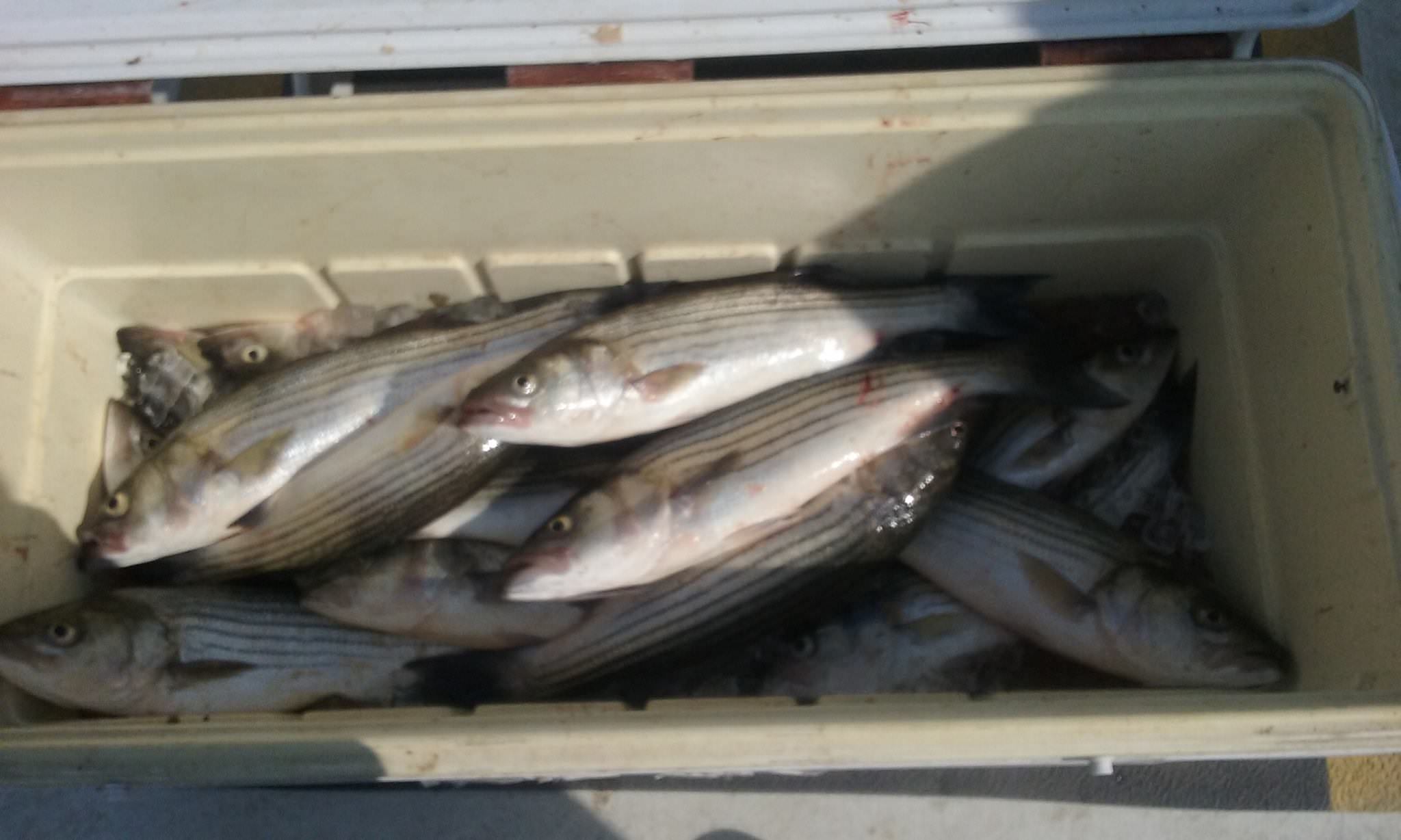 Chesapeake Bay Fishing Report: July 7, 2018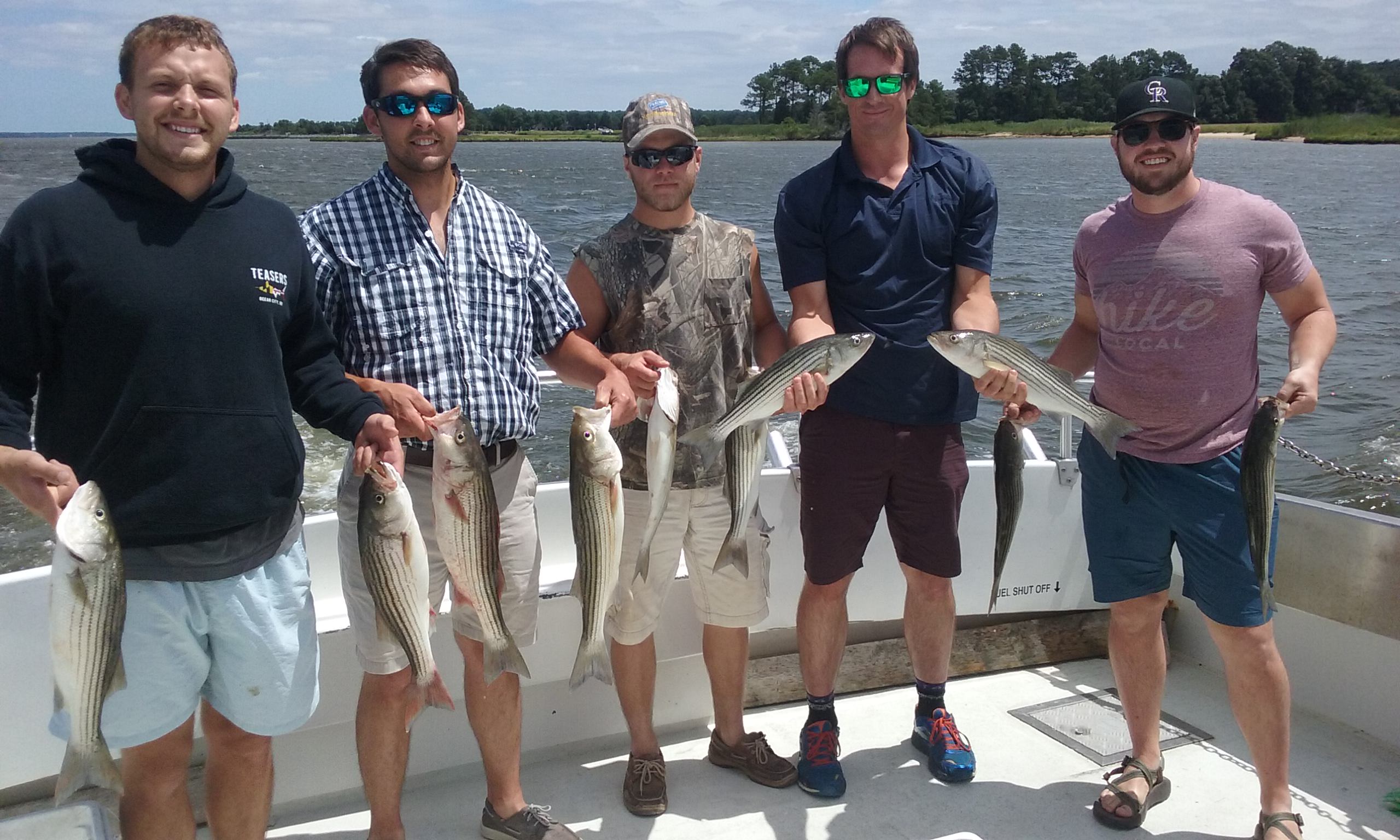 Well, the month of July has started the same way that the month of June left off! Light tackle fishing for striped bass continues to be red-hot on the Chesapeake Bay! This crew fished with us for the first time today, and in spite of strong winds this morning, they still came home with a limit of rockfish! As soon as we got to the fishing grounds, we anchored up and started bailing chunks of menhaden into the water. It didn't take long for the rockfish to see the food! The fish started to bite, and they continued to bite until this group had their limit. There were also a lot of smaller fish that had to be thrown back, so there was plenty of action this morning. We still have plenty of dates available this summer. Give us a call at (410) 397-3743!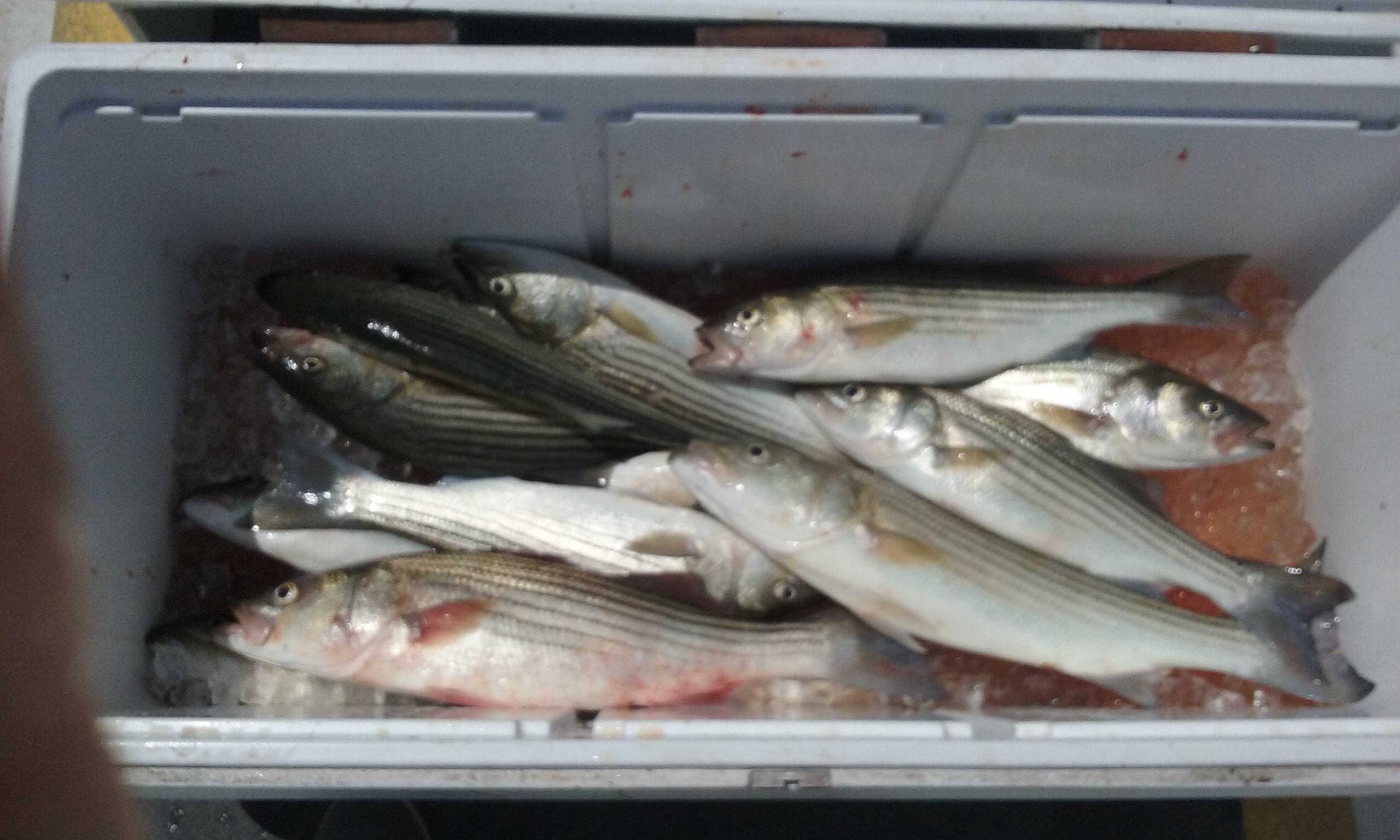 Chesapeake Bay Fishing Report: June 30, 2018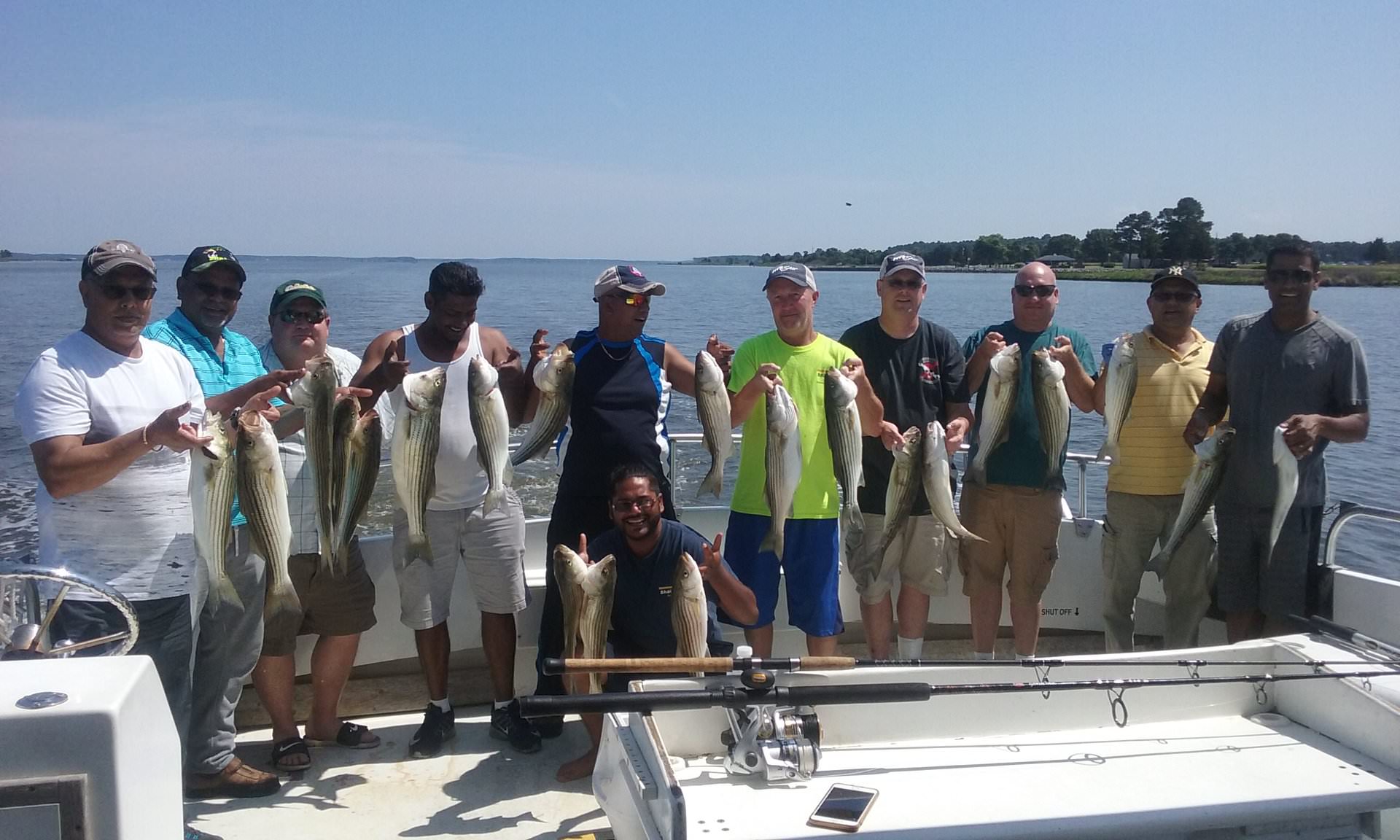 We ended the month of June with a BANG! Check out the fish that we caught today! We left the dock a little bit earlier than normal and got to the fishing grounds sooner than most of the other boats on this Saturday morning, and it paid off. This 11-man crew caught their limit of stripers on the Chesapeake Bay in pretty short order. The fish caught today were some of the prettiest caught yet this summer. They ranged between 19 and 26 inches in length, and had some girth to them as well! We have plenty of open dates if you wanna go fishing with us this summer. Just give us a call to book your date!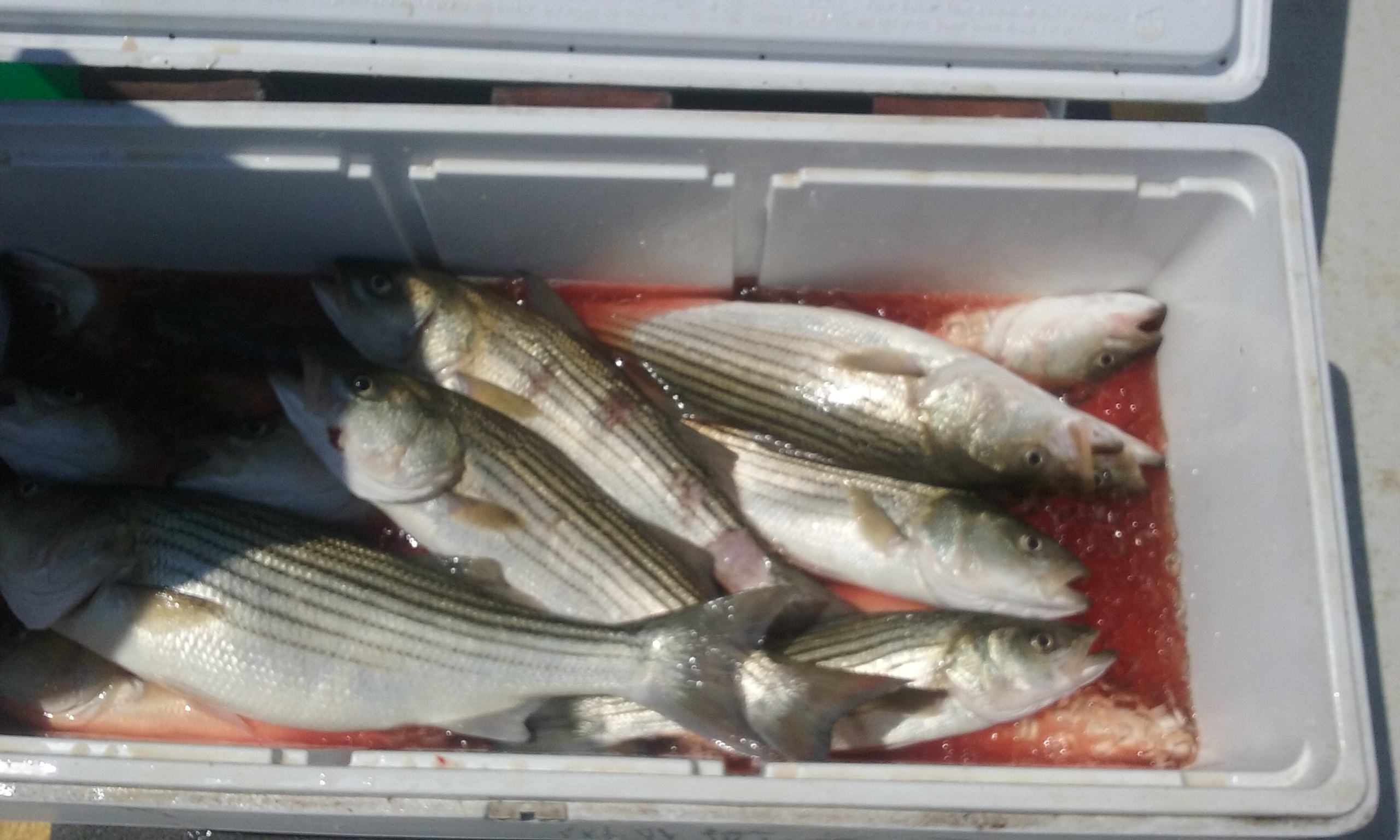 Contact: Capt. Dave Schauber at 410-397-3743 or email: sawyercharters@yahoo.com
___________________________________________________
Fishing Information from Capt. Dave



Enjoy the finest in Chesapeake Bay Sportfishing with Capt. Dave

Trolling for Trophy Striped Bass

Bottom Fishing with light tackle

Chumming for Striped Bass & Blues

Live-lining spot for Stripers

Trolling for Spanish Mackerel and Blues

Capt. Dave Schauber is a native to Maryland's Eastern Shore. He has fished on the Chesapeake Bay his entire life. From the late 1970s to the late 1990s, he operated sawmills for a living. After relocating to Dorchester County in 1981 to operate another sawmill, he quickly became known in the community as simply "The Sawyer", and is still referred to by that title to this day. It is often confused with his last name. This is the origin of the business name, and hence the boat name. After moving to Dorchester County, he fished the lower and middle Chesapeake Bay, in addition to the Honga River, Fishing Bay, and other local bodies of water for years. He started out with small, center-console boats and worked his way up to eventually owning a 42-foot Bay-built vessel. He obtained his Captain's License in 1992, and began to run fishing charters on the weekends and his days off. After building his business for several years, he made the decision to leave the sawmill and begin running charters full time in 1999. His business continued to grow, leading to the construction of our new boat in 2002.
We offer full and half-day Maryland fishing charters on the Chesapeake Bay, fishing for Chesapeake Bay rockfish (stripers or Maryland striped bass), bluefish, croakers, Spanish mackerel, and other species. We also offer Chesapeake Bay lighthouse cruises, nature cruises and other Chesapeake Bay tours, floating crab feasts, and cruises to various destinations along the Chesapeake Bay. We are located on Hoopers Island, about 40 minutes south of Cambridge, Maryland. Regardless of the size of your group, or the uniqueness of your occasion, there is nothing that we can't handle! Come join us for a memorable Chesapeake Bay charter fishing experience!
Sawyer Fishing Charters and Tours
Hoopers Island, MD
Capt. Dave Schauber
1345 Hoopers Island Rd.
Church Creek, Maryland 21622
Marina Address:
1747 Hoopersville Road
Fishing Creek, MD 21634
Email: sawyercharters@yahoo.com
Updated: 08/16/2018