Sawyer Fishing Charters & Chesapeake Bay Tours
Chesapeake Bay Fishing Reports & Maryland Fishing Information
Chesapeake Bay Fishing Reports From Capt. Dave Schauber!

Access the latest Chesapeake Bay fishing report on Maryland's Chesapeake Bay and find out what we're up to, right here at SawyerCharters.com!

Just 40 minutes south of Cambridge, MD!

Fishing the Chesapeake Bay in the areas of Hoopers Island, Taylors Island, Poplar Island, and Kent Island! We go where the fish are!

For fishing charter booking information, please click here.

Contact us at
(410) 397-3743

sawyercharters@yahoo.com

Easy access from the Ocean Gateway (Rt 50) from Annapolis, Baltimore, Ocean City,

Pennsylvania, Virginia or Delaware
---
Chesapeake Bay Fishing Report on the Sawyer
2018 MARYLAND FISHING REPORT
Chesapeake Bay Fishing Report: June 10, 2018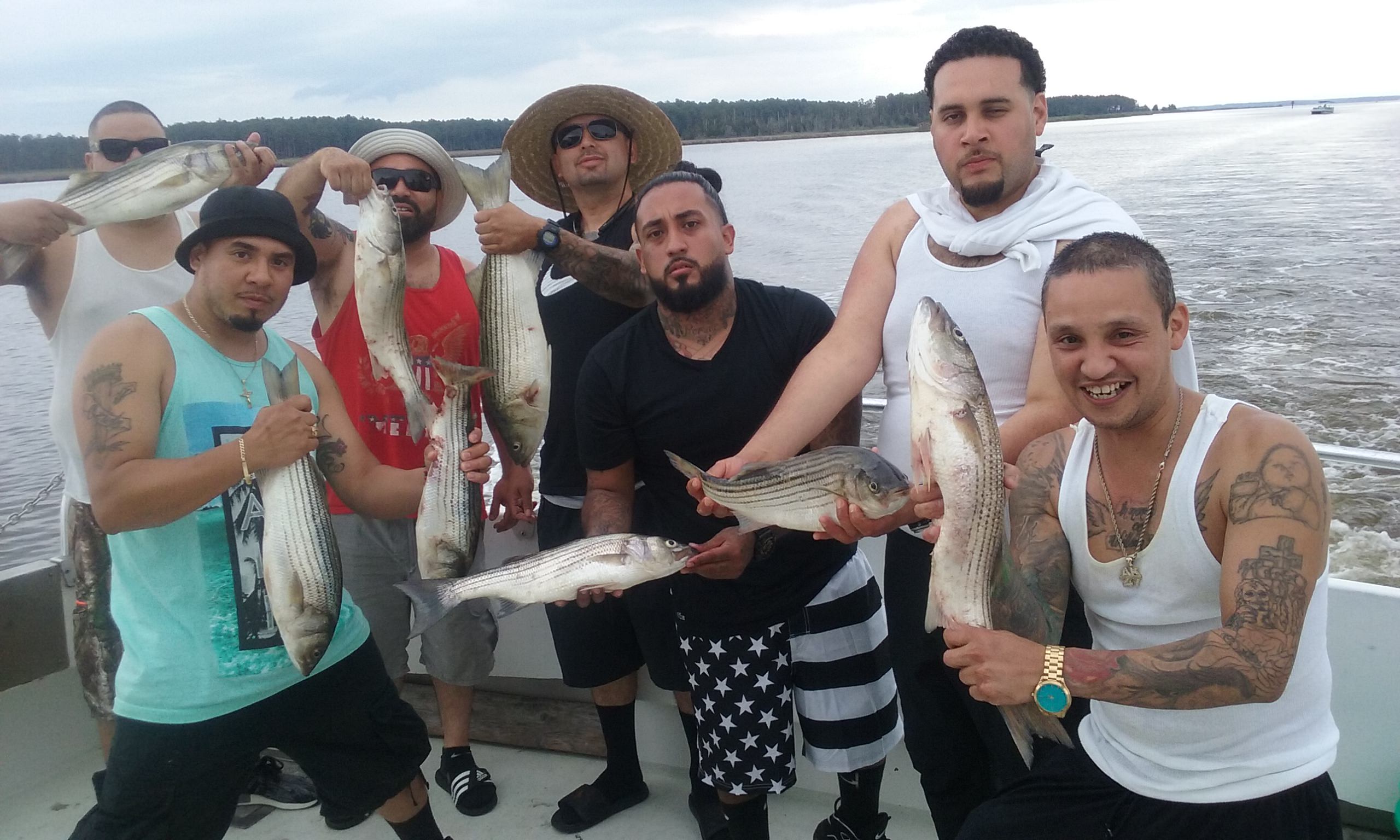 This is the first time that these guys came to fish with us on a Chesapeake Bay fishing charter. Some of these guys had never been fishing before, but that didn't stop them from limiting out on Chesapeake Bay striped bass in under two hours! This is all light tackle fishing with chumming. It's a good way to catch fish for people of all skill levels. These guys were fantastic and we hope to see them again!
Chesapeake Bay Fishing Report: June 9, 2018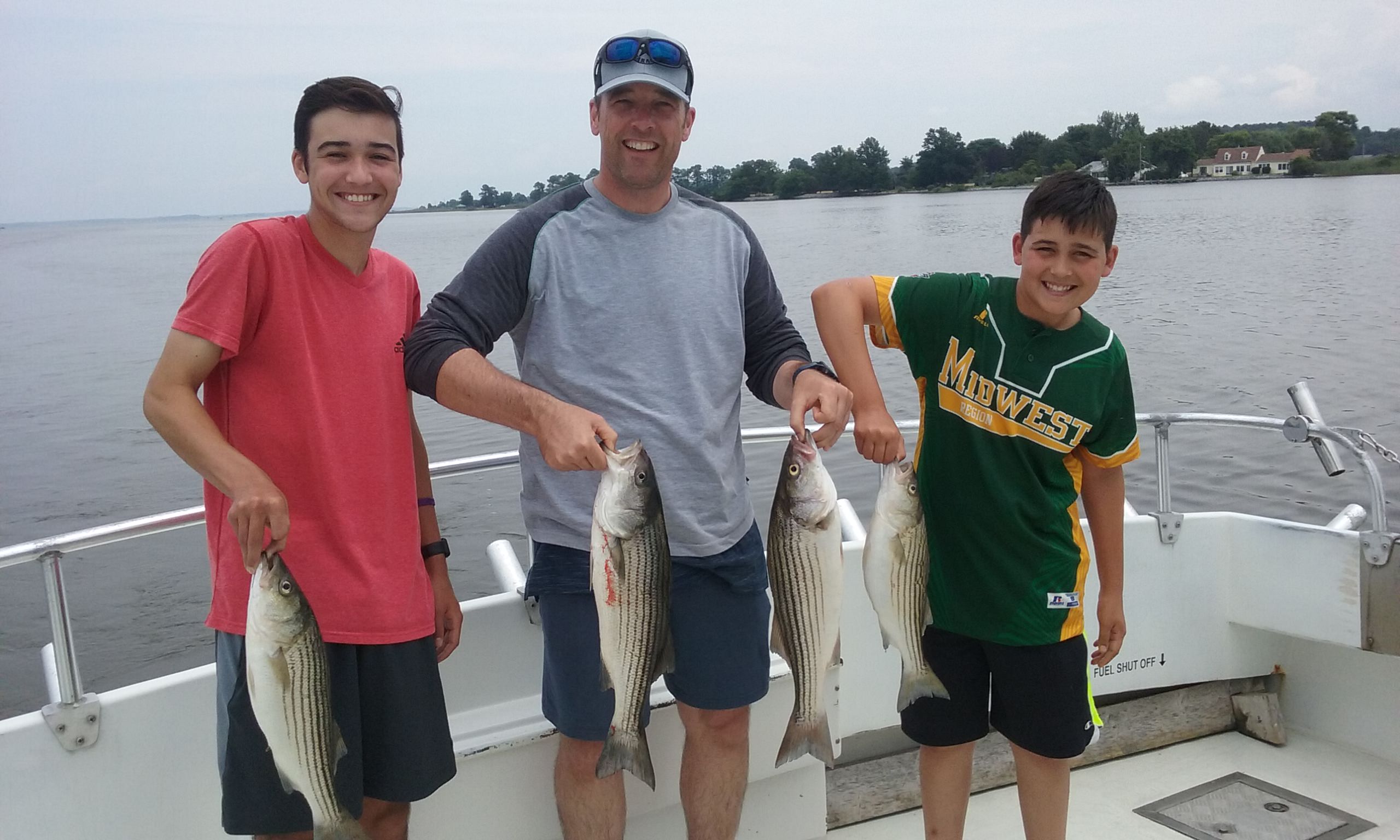 Here, we have a father who decided to treat his sons to a day of fishing on the Chesapeake Bay. They were here from the Buffalo, NY area, as Mom was participating in the local Eagleman Triathlon. As you can see, these guys did pretty well today on catching their limit of striped bass. They had a fantastic day. We limited out by chumming and with the use of light tackle. We still have plenty of dates open this summer, if you want to try your hand at some of this light tackle striper fishing. Just give us a call at (410) 397-3743, and we'll fix you right up!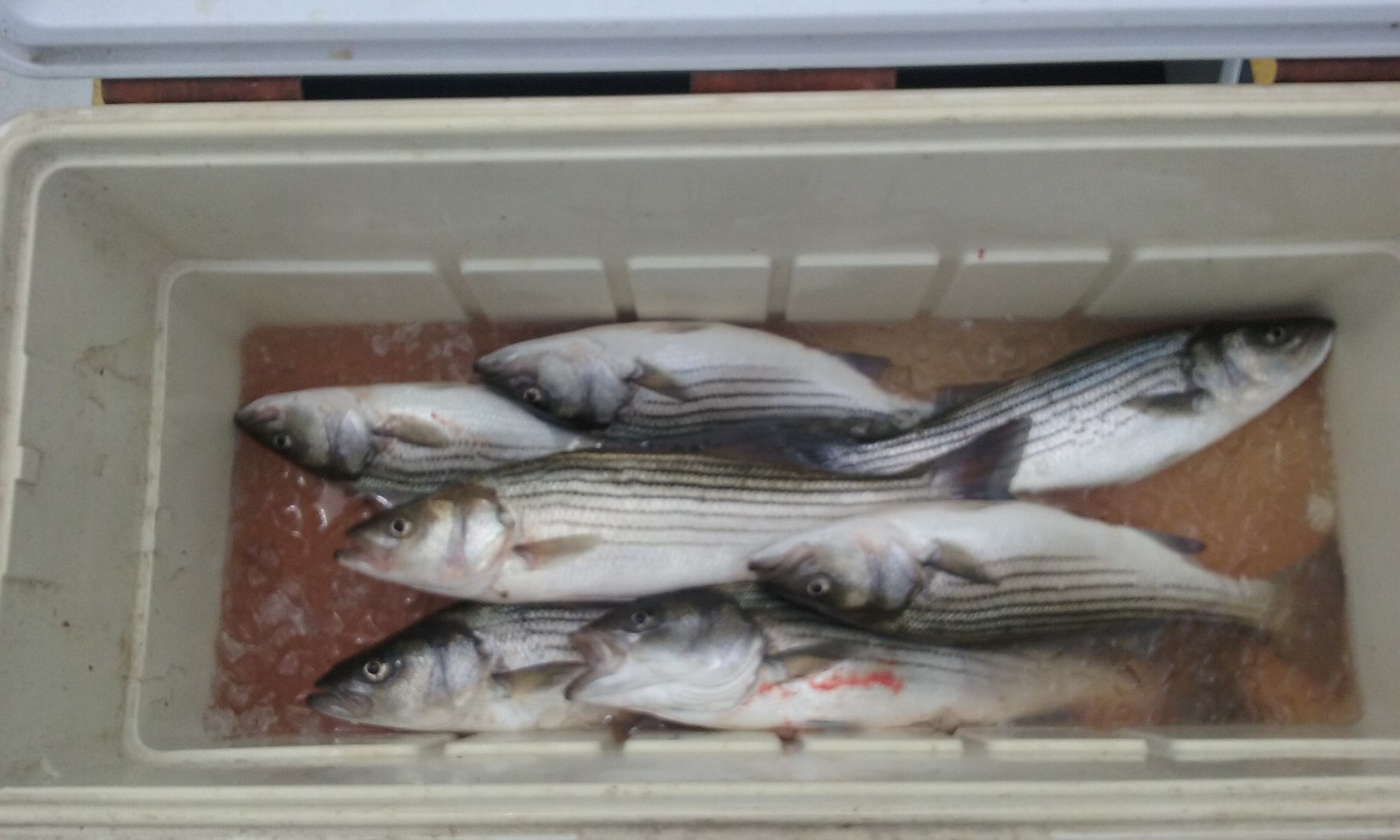 Chesapeake Bay Fishing Report: June 6, 2018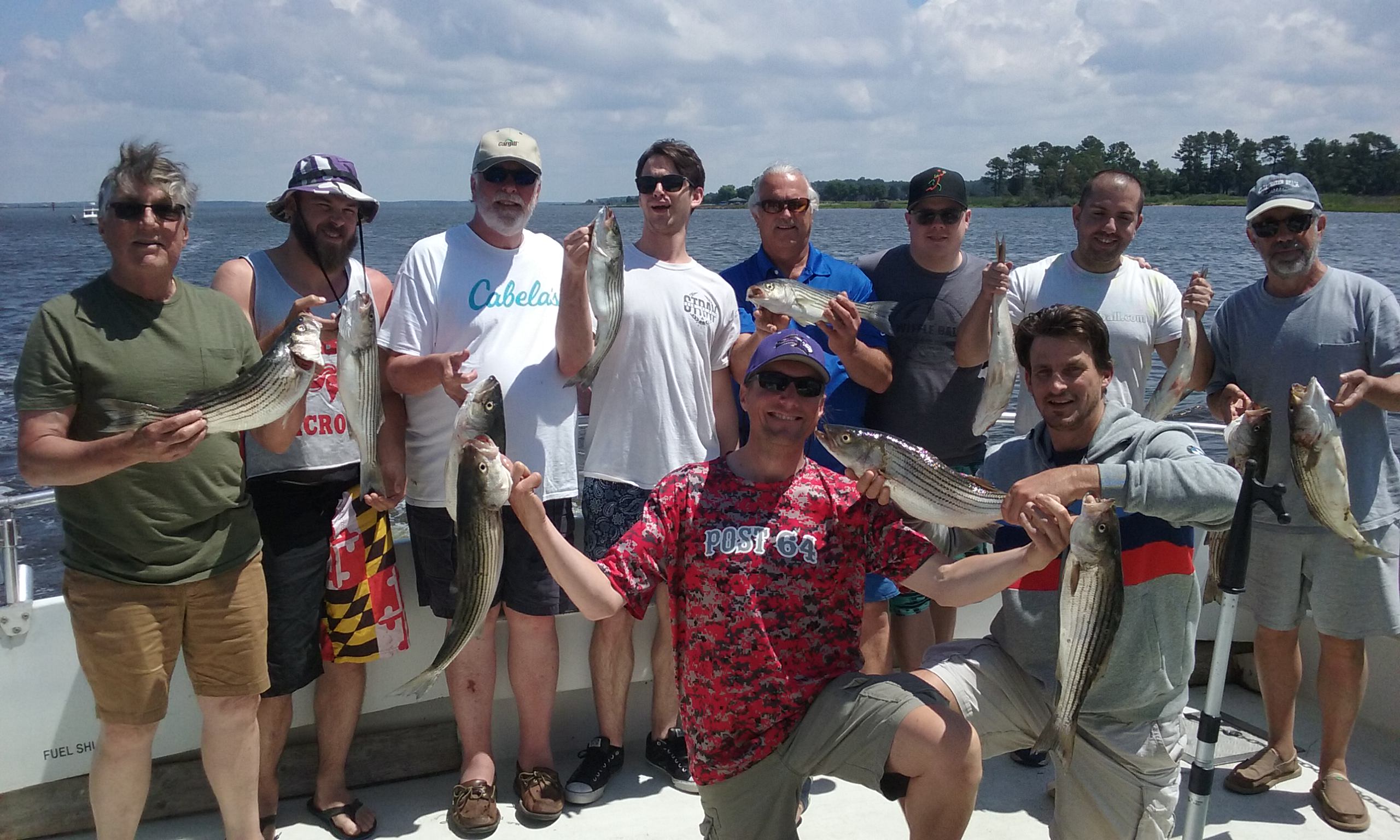 Light tackle fishing for Chesapeake Bay rockfish is back for 2018! Our group today limited out on striped bass with menhaden for bait, a technique also known as chumming! The big fish on the day clocked in at 28 inches in length! Once we found the fish, it didn't take long for this group of 10 to catch 'em. This was their first time fishing with us, and hopefully, won't be their last!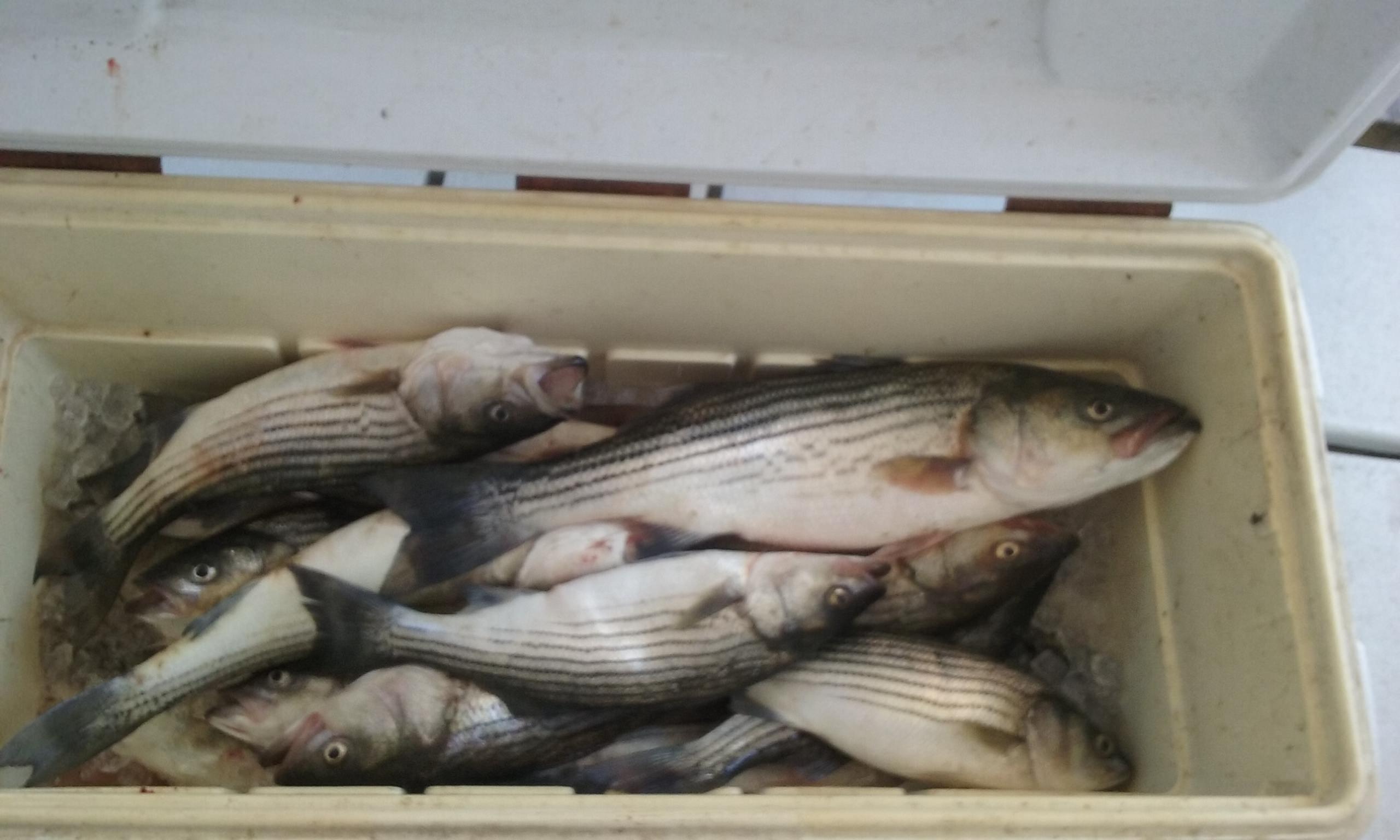 Chesapeake Bay Fishing Report: May 20, 2018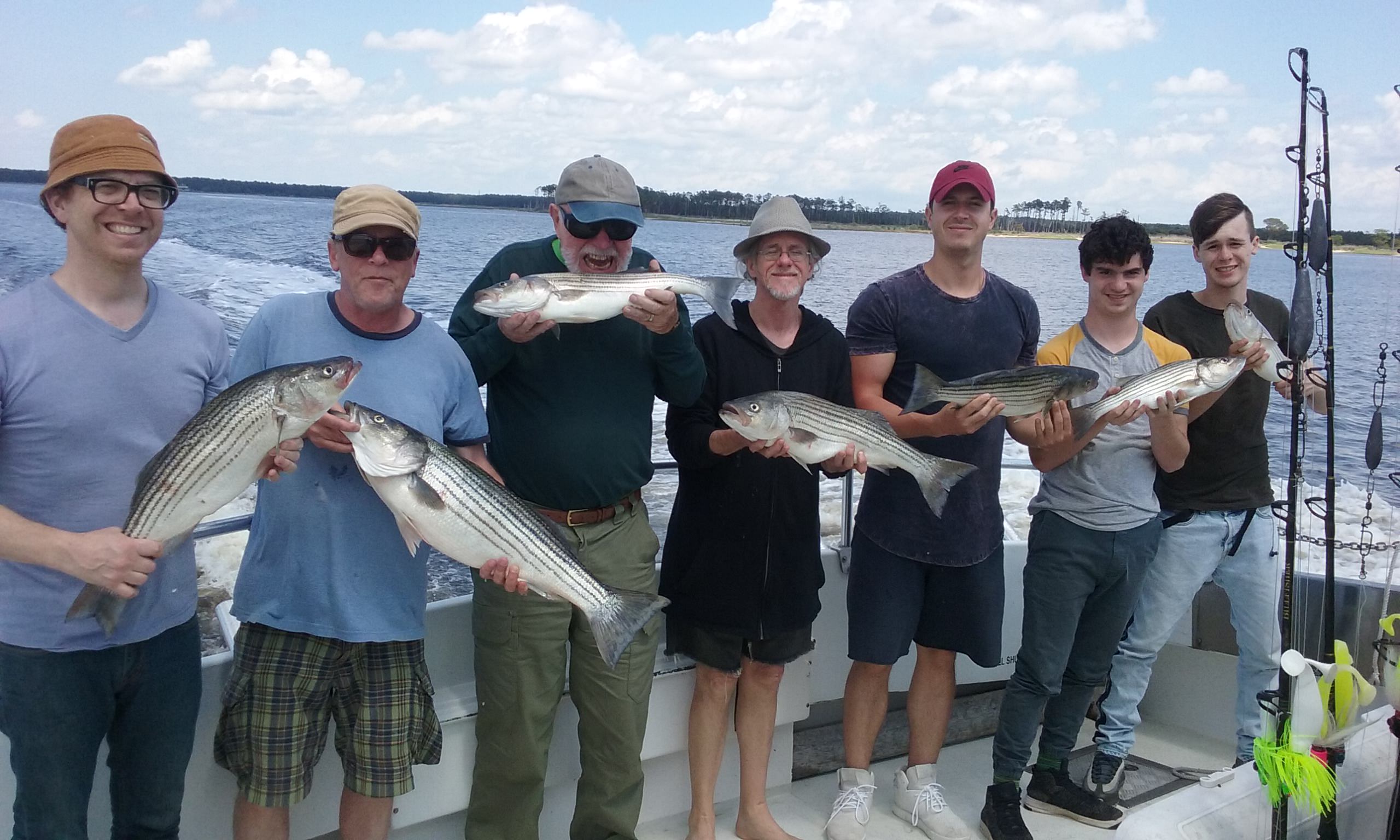 This crew came to see us from Asheville, NC today. Fortunately, the fish were here to welcome them! We caught our limit of rockfish today by trolling. The fish that we caught all ranged between 19 and 32 inches long. It was a beautiful day, with all of the rain finally out of here. Hopefully, things stay this way!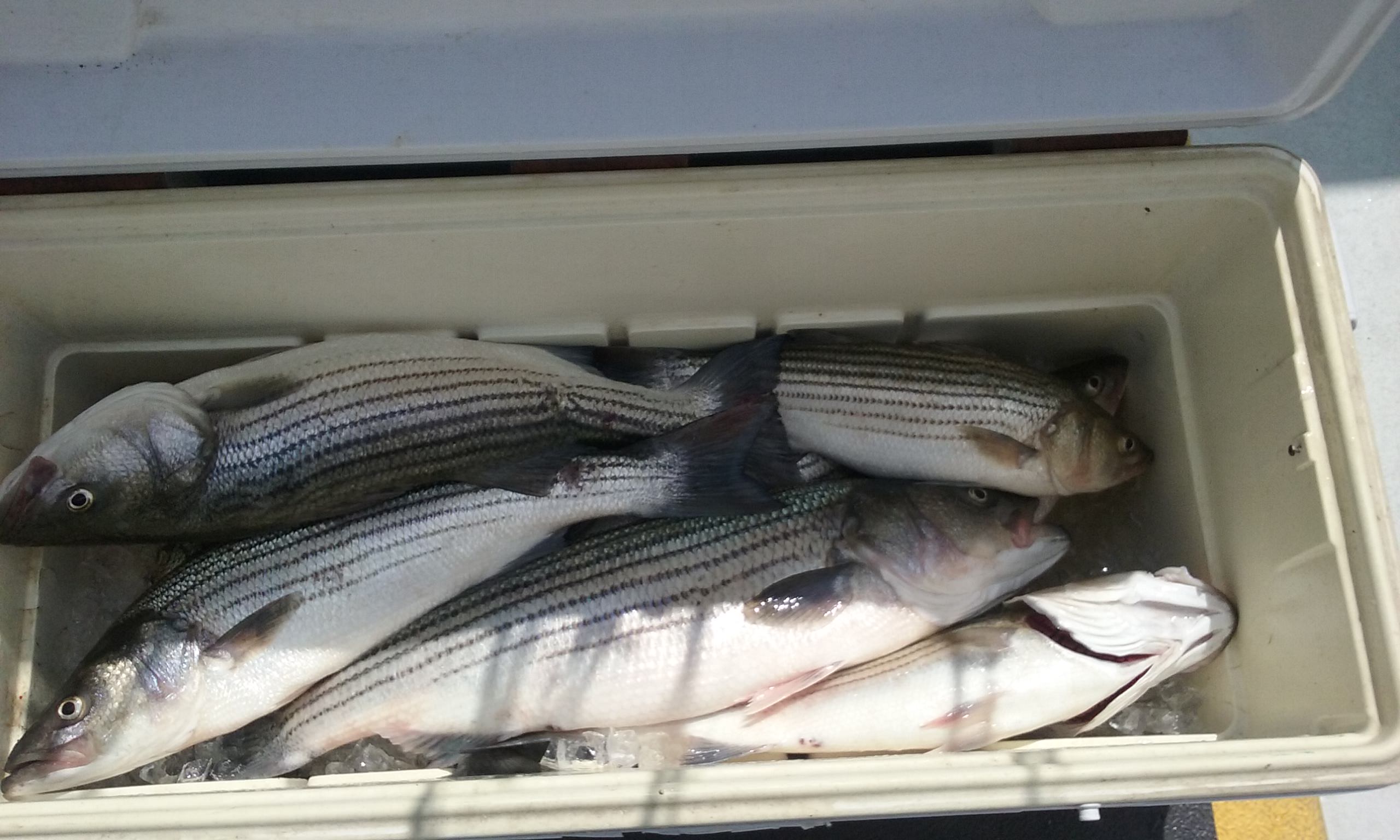 Chesapeake Bay Fishing Report: May 9, 2018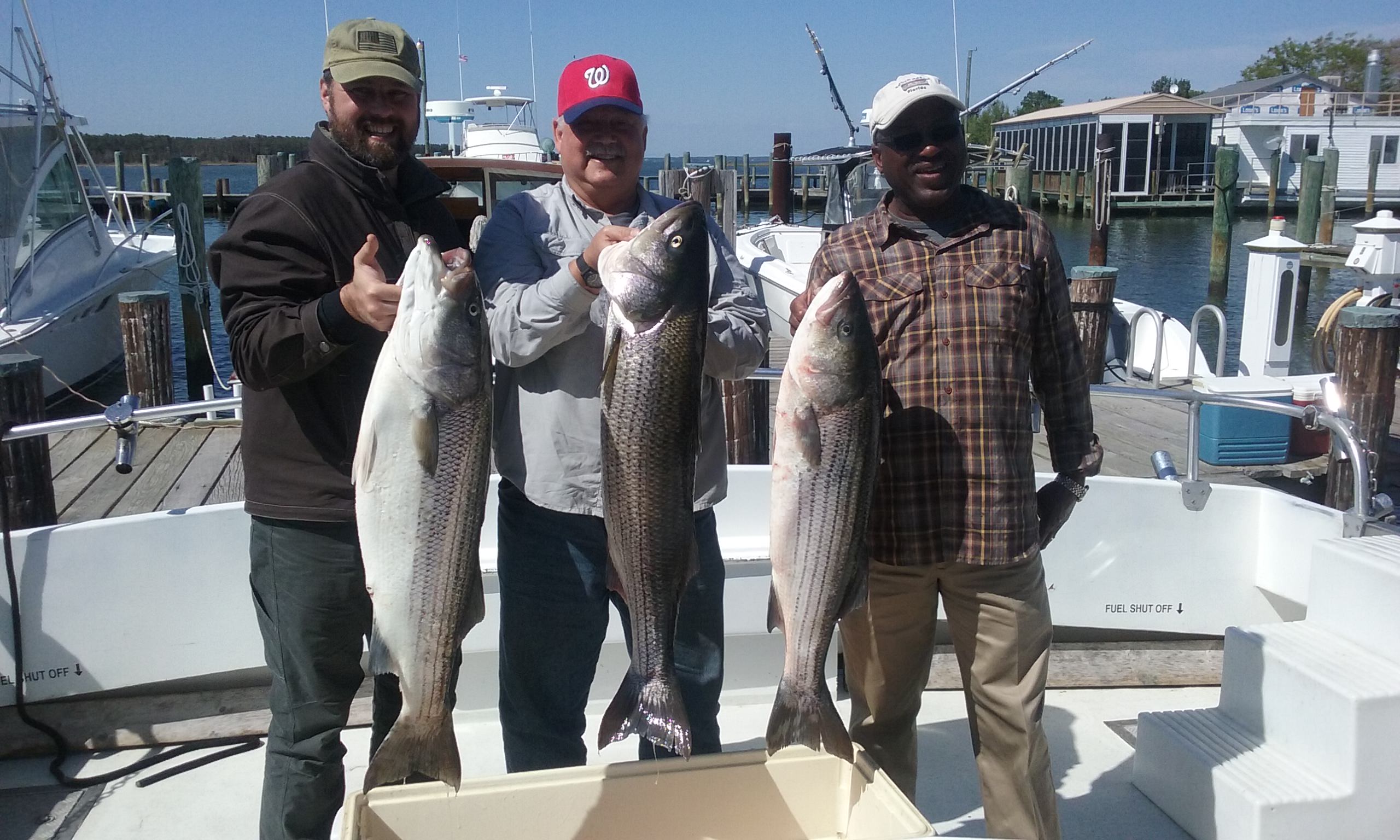 It was a bit slow for us this morning, but we still managed to land three monster Chesapeake Bay rockfish! To make it even more adventurous, two of them were on the same line at the same time, which made getting both of them in the boat quite interesting. This was a very happy group at the end of the day, and hopefully, they'll come back for some more Chesapeake Bay fishing charters in the years to come!
Chesapeake Bay Fishing Report: May 8, 2018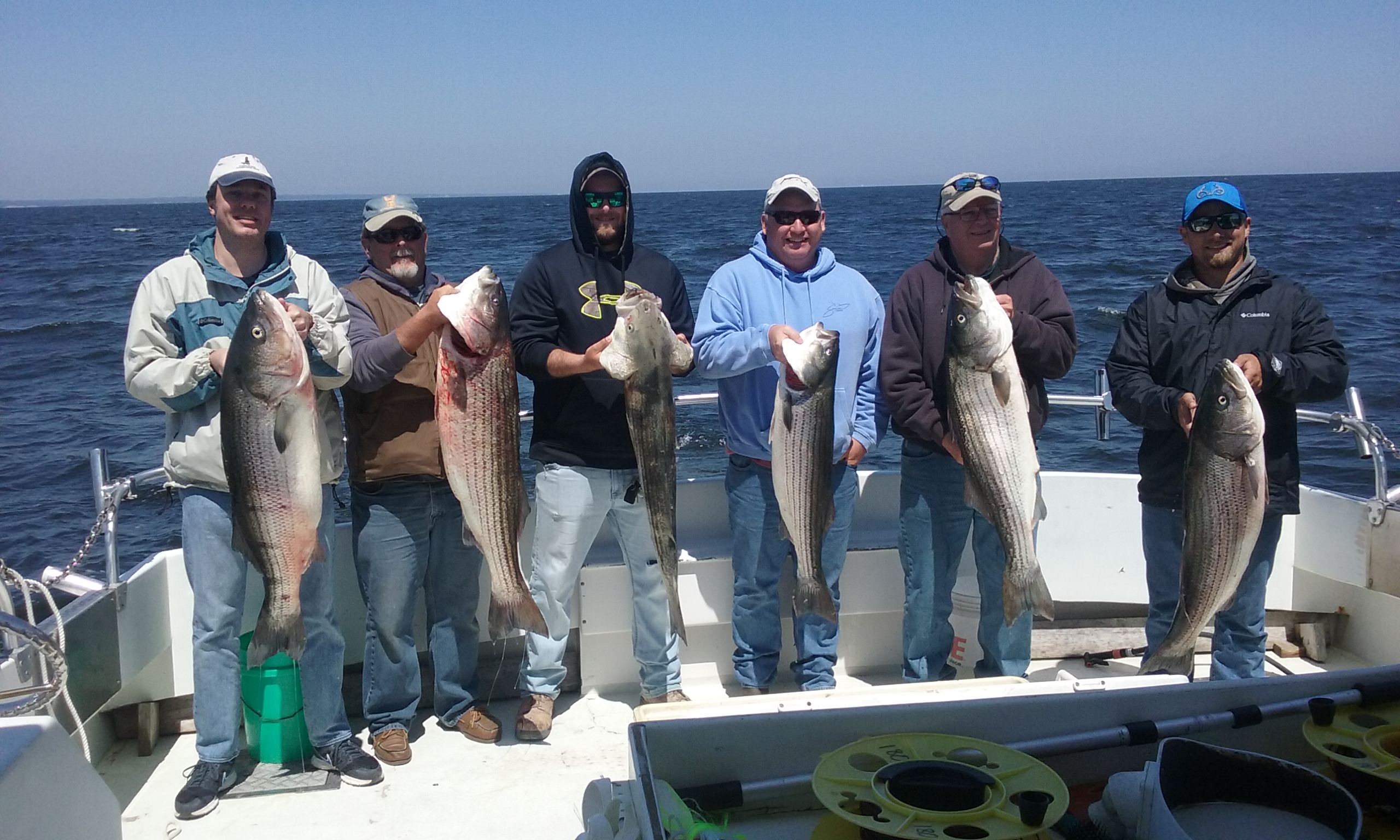 This has been our best day yet, fishing on the Chesapeake Bay in 2018! All but one of the fish in this picture came in at 40 inches long or more. Not only that, but we hooked up on four of them at the same time, creating quite a bit of pandemonium! Hopefully, this is a sign of things to come at the Chesapeake Bay trophy rockfish season progresses!
Chesapeake Bay Fishing Report: May 1, 2018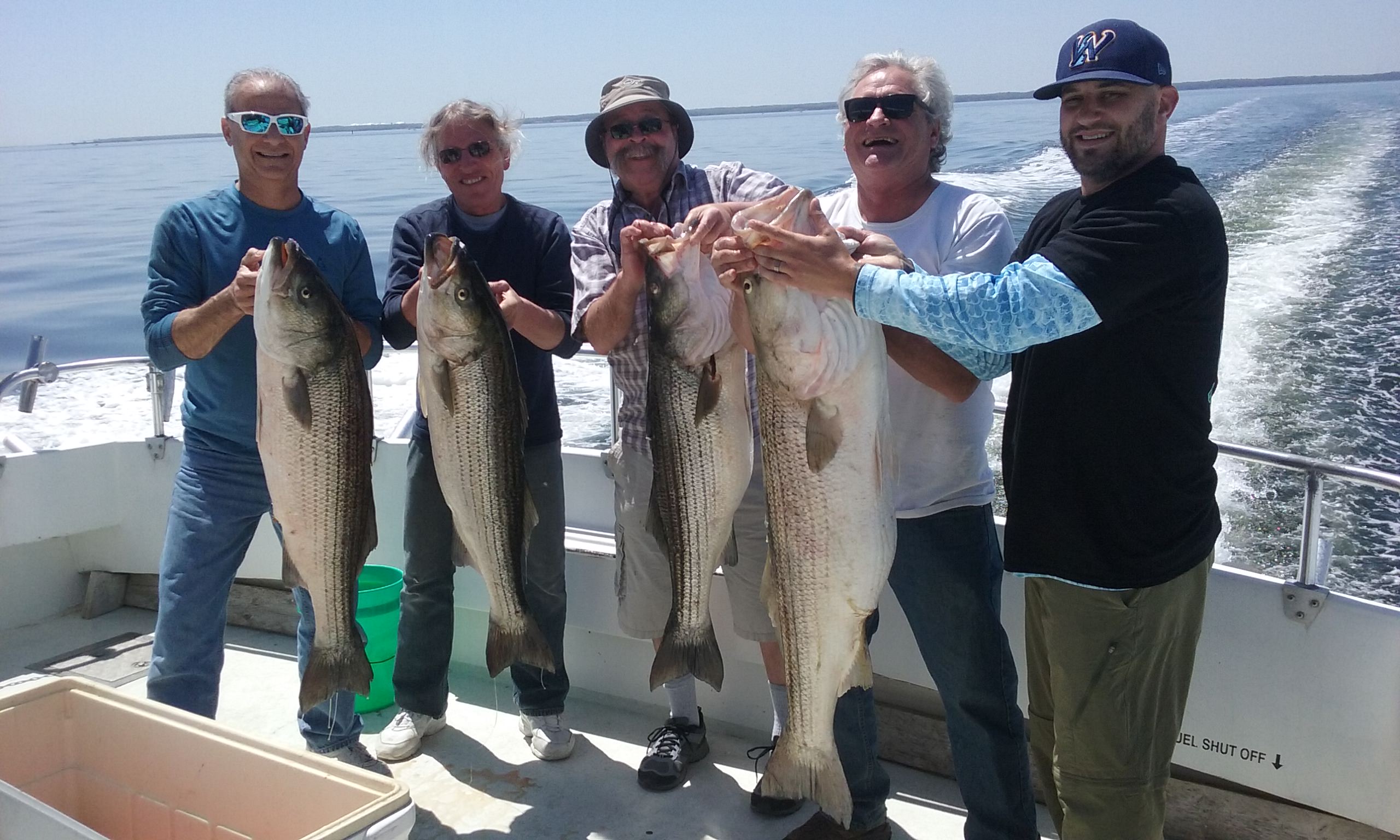 From a fishing standpoint, we've had a rough start for 2018, but things have finally started to pick up for us! Check out the four monster Chesapeake Bay rockfish that we landed today! All of these beasts were over 40 inches in length! It was a great day of Chesapeake Bay charter fishing for this bunch! Hopefully, things will continue to improve as the weather warms up!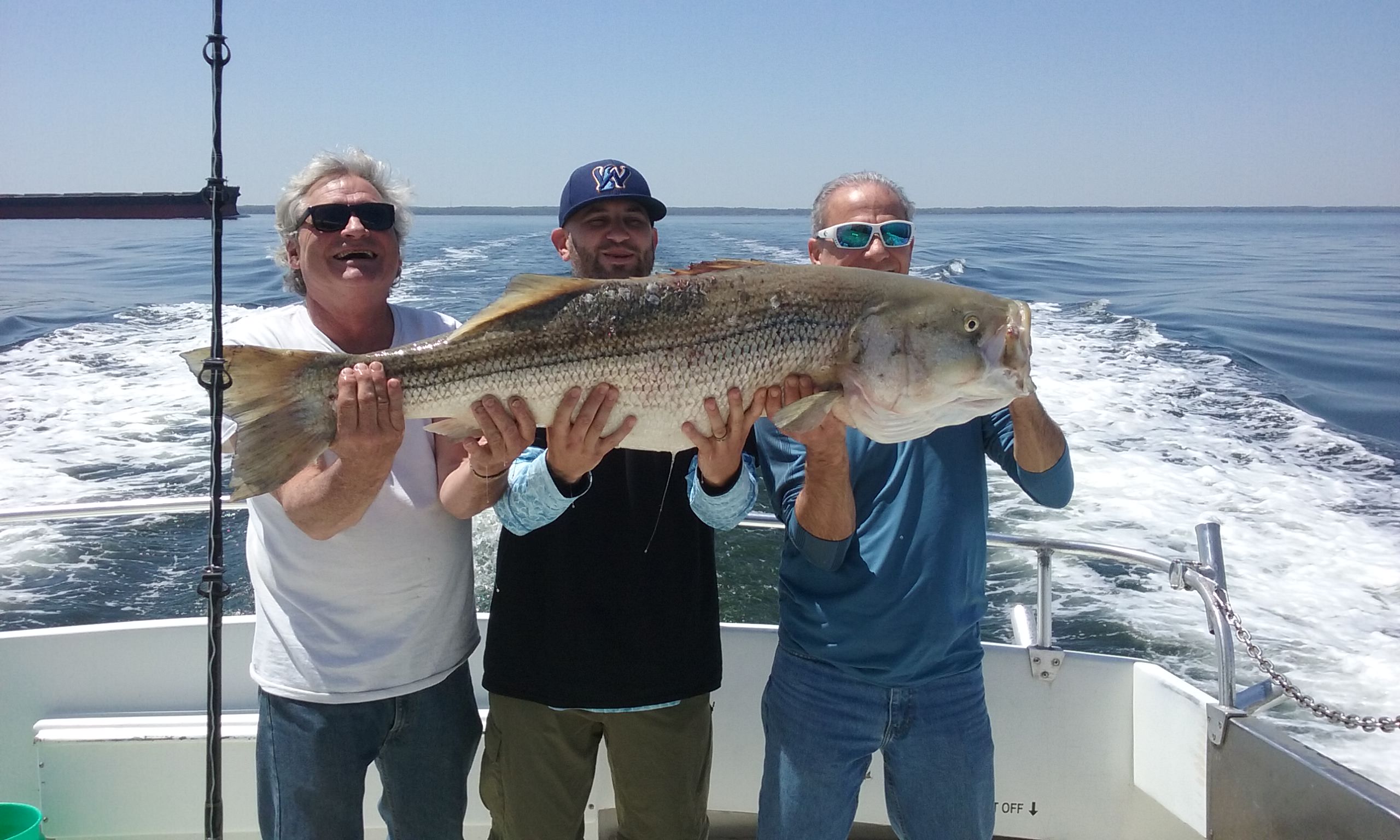 Chesapeake Bay Fishing Report: December 17, 2017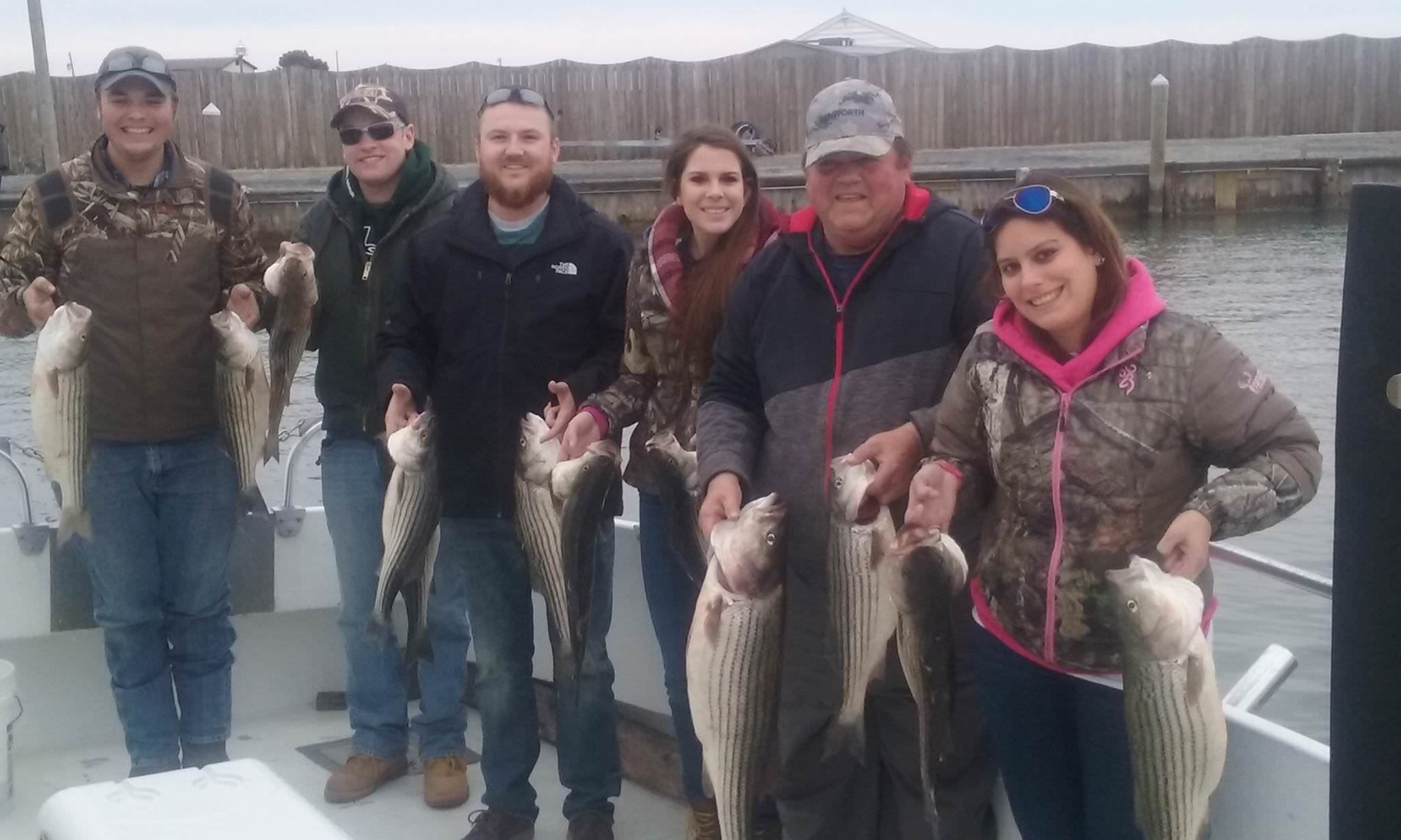 It was an awesome day on the bay for us today! These folks have been out with us many times over the years, fishing for striped bass on the Chesapeake Bay. They always seem to have a good time, no matter what. From the above picture, you can see that today was no different! In fact, they were tickled to death with the rockfish that we caught today. While the longest fish of the day was 32 inches long, even the smaller fish that we caught had quite a bit of girth to them. This is typical of the rockfish that we catch on the Chesapeake Bay during this time of year. The above picture just doesn't do it justice. We have included a cooler shot below to try to capture that a bit better!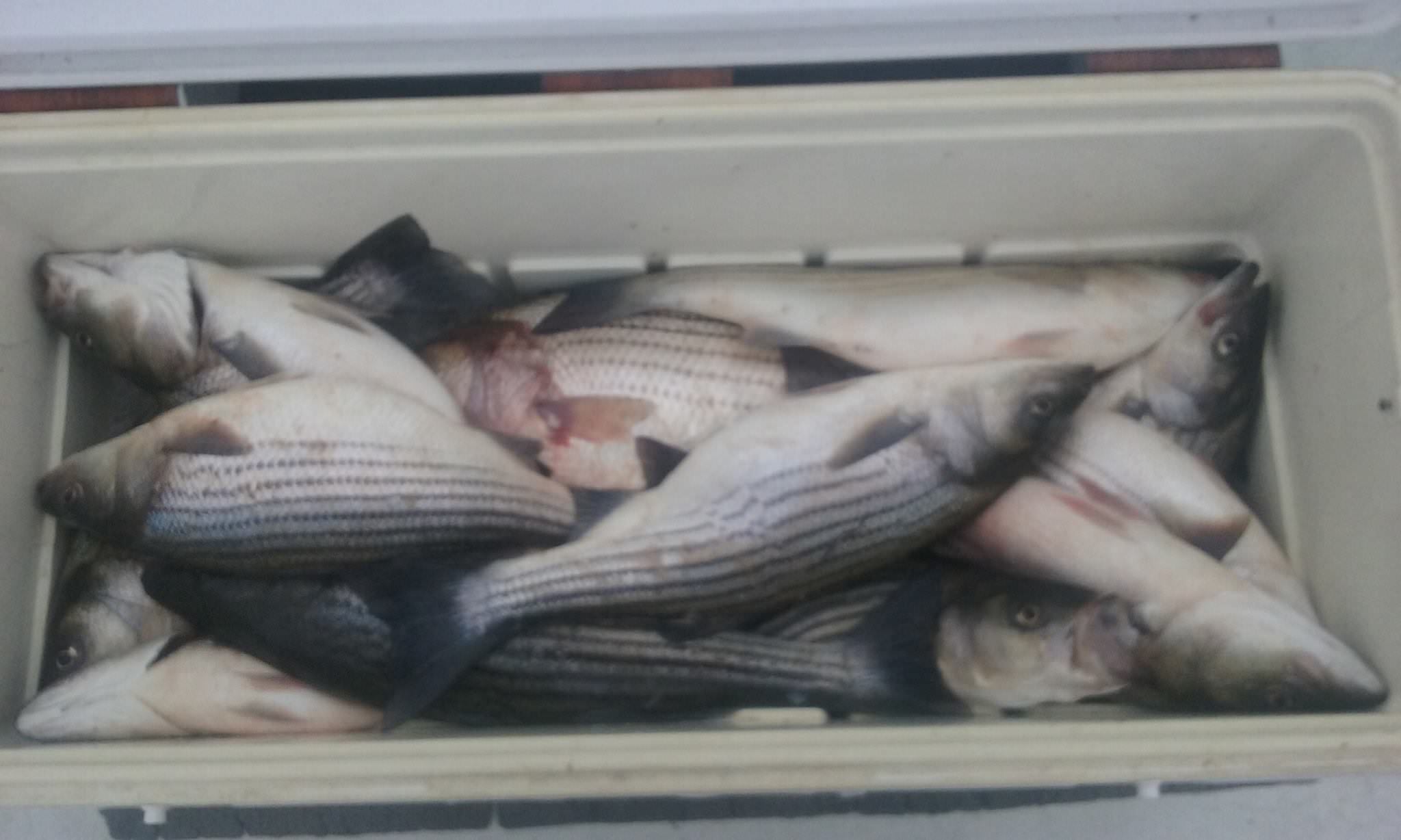 Chesapeake Bay Fishing Report: November 25, 2017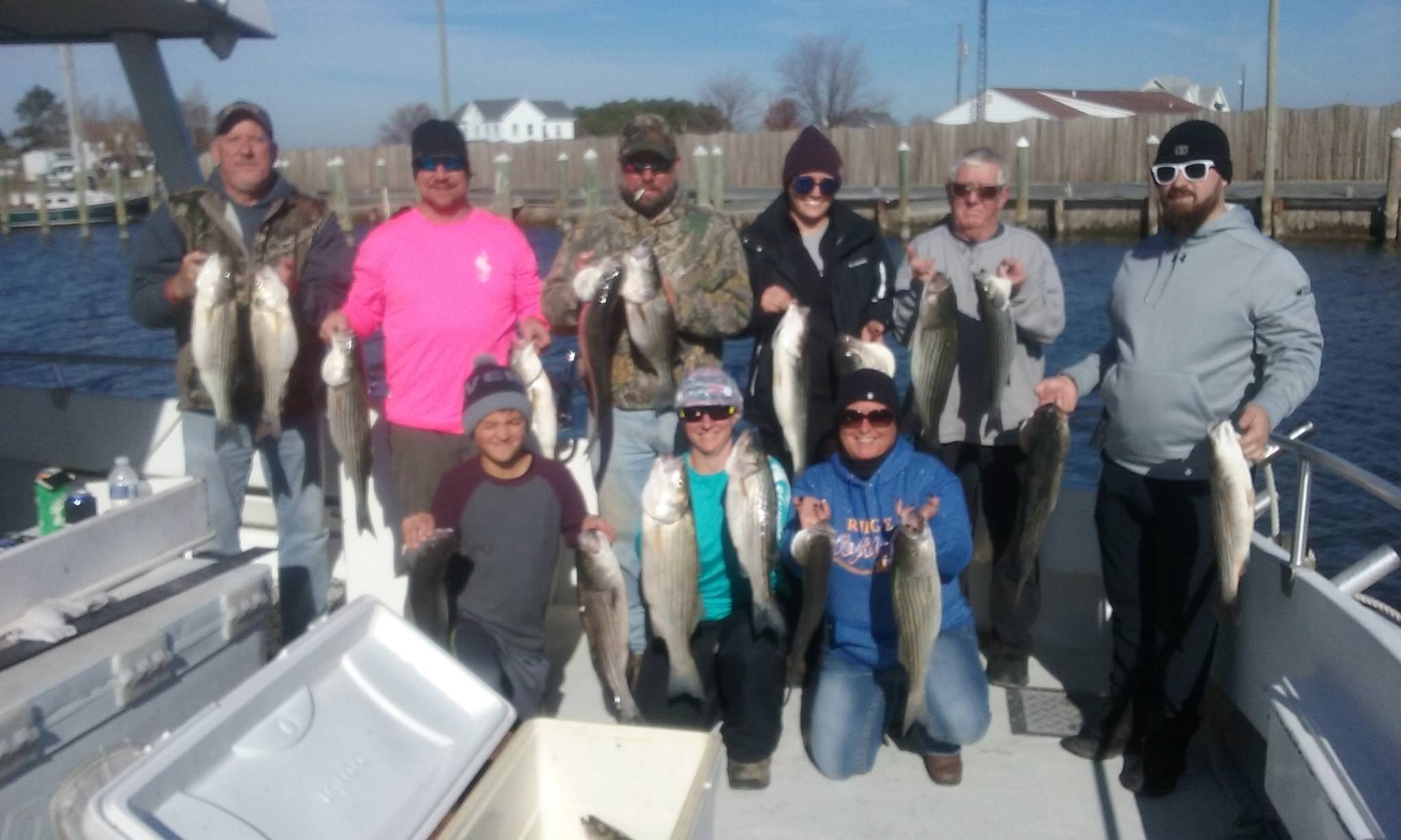 These folks have been fishing with us on many Chesapeake Bay striped bass fishing charters over the years, and more often than not, they come away with a nice batch of fish. Today was no different! We left Hoopers Island bright and early, heading down the Chesapeake Bay to where rockfish have been caught consistently for the past couple of weeks. However, on the way down, we saw huge flocks of birds diving onto the water surface. We put over our trolling lines and we trolled around these flocks of birds, and it worked! We stayed in that area throughout the morning, and had our limit of Maryland rockfish by 10:30! The biggest of the day was 32 inches long, with plenty of other fish in the mid to upper 20s! Most of the time, we were catching a couple of fish at a time, until we completed our limit. It was an action-packed day on the bay for sure!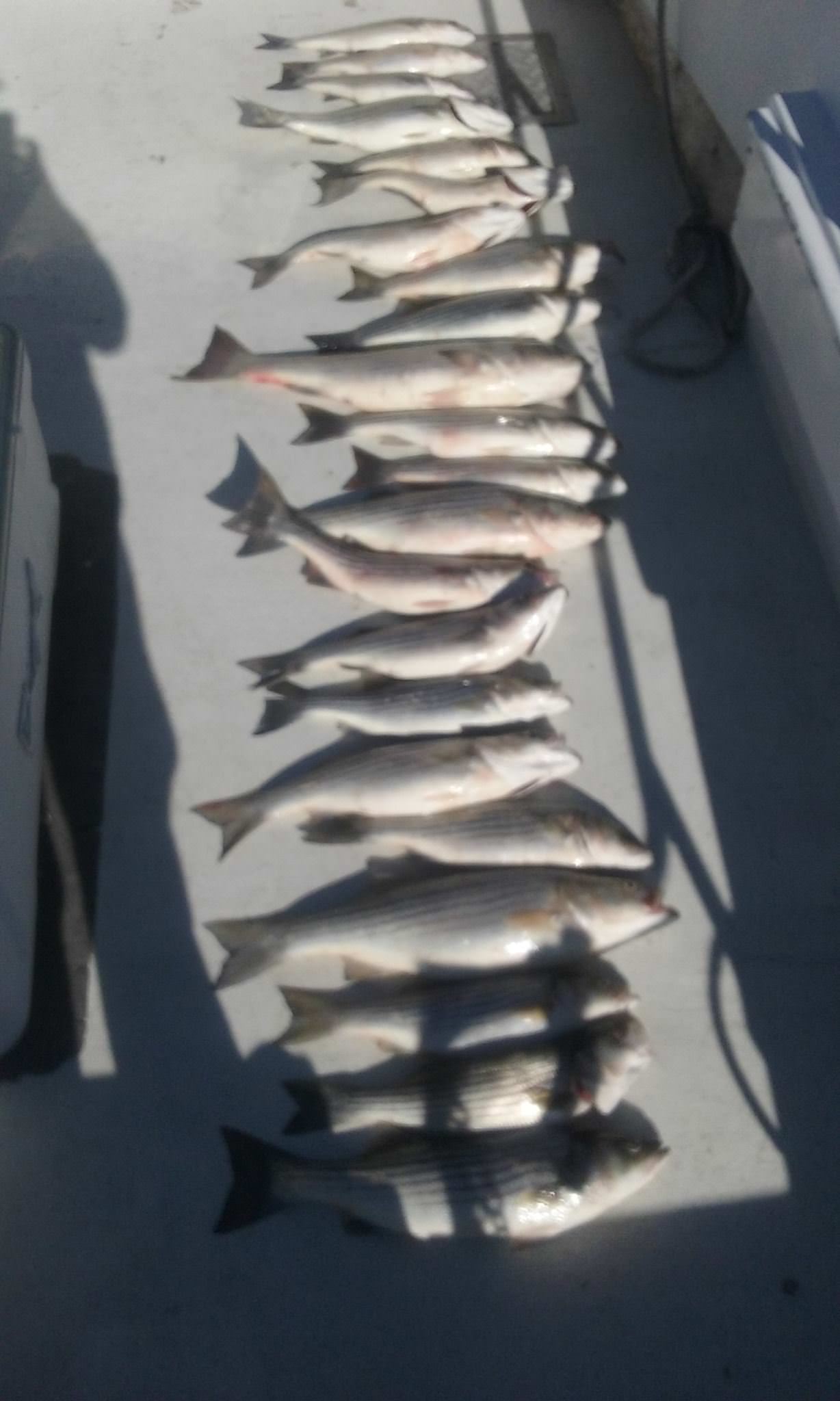 Chesapeake Bay Fishing Report: November 24, 2017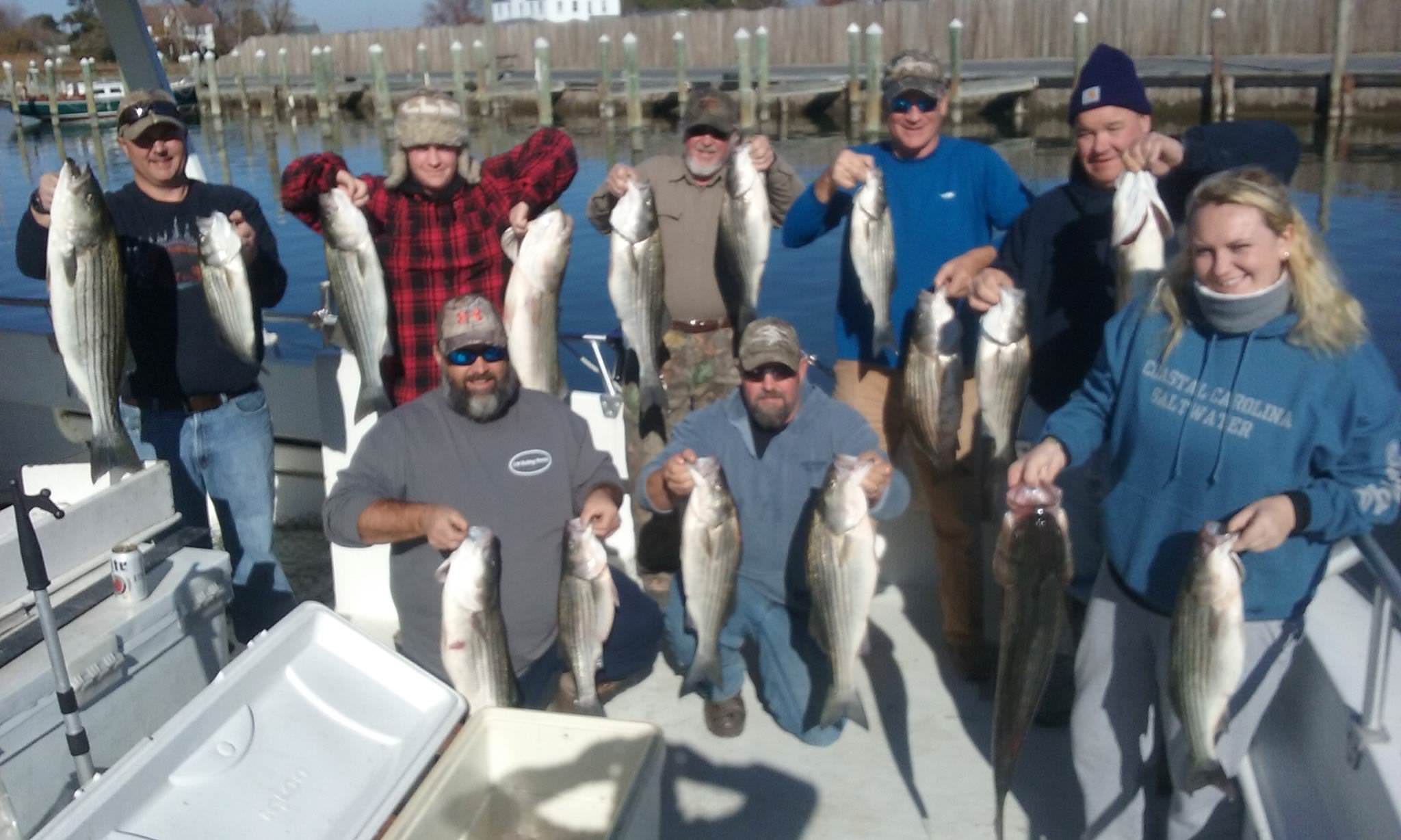 Why would you want to go shopping on Black Friday and fight the crowds when you can do what these guys did on a Chesapeake Bay fishing charter? The fish were ready for us this morning when we put our lines over. There were a lot of birds around, and they led us to where the fish were! As soon as we got our trolling lines out, we had five lines hook up and we pulled seven beautiful rockfish over the side, including the biggest one of the day that was 34 inches long! We then caught one or two at a time until we had our legal limit. These guys were so happy that they have already booked Black Friday with us for next year!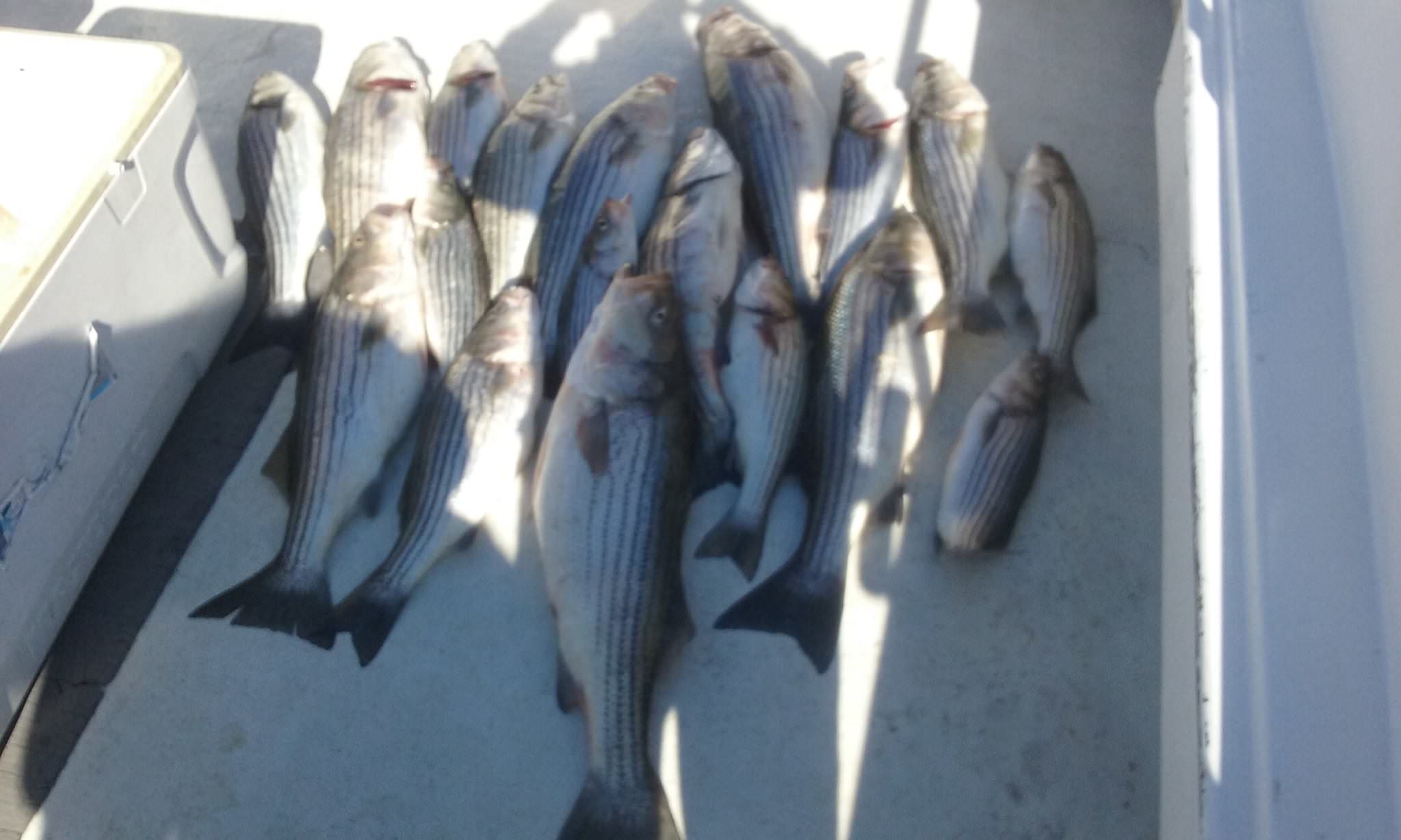 Contact: Capt. Dave Schauber at 410-397-3743 or email: sawyercharters@yahoo.com
___________________________________________________
Fishing Information from Capt. Dave



Enjoy the finest in Chesapeake Bay Sportfishing with Capt. Dave

Trolling for Trophy Striped Bass

Bottom Fishing with light tackle

Chumming for Striped Bass & Blues

Live-lining spot for Stripers

Trolling for Spanish Mackerel and Blues

Capt. Dave Schauber is a native to Maryland's Eastern Shore. He has fished on the Chesapeake Bay his entire life. From the late 1970s to the late 1990s, he operated sawmills for a living. After relocating to Dorchester County in 1981 to operate another sawmill, he quickly became known in the community as simply "The Sawyer", and is still referred to by that title to this day. It is often confused with his last name. This is the origin of the business name, and hence the boat name. After moving to Dorchester County, he fished the lower and middle Chesapeake Bay, in addition to the Honga River, Fishing Bay, and other local bodies of water for years. He started out with small, center-console boats and worked his way up to eventually owning a 42-foot Bay-built vessel. He obtained his Captain's License in 1992, and began to run fishing charters on the weekends and his days off. After building his business for several years, he made the decision to leave the sawmill and begin running charters full time in 1999. His business continued to grow, leading to the construction of our new boat in 2002.
We offer full and half-day Maryland fishing charters on the Chesapeake Bay, fishing for Chesapeake Bay rockfish (stripers or Maryland striped bass), bluefish, croakers, Spanish mackerel, and other species. We also offer Chesapeake Bay lighthouse cruises, nature cruises and other Chesapeake Bay tours, floating crab feasts, and cruises to various destinations along the Chesapeake Bay. We are located on Hoopers Island, about 40 minutes south of Cambridge, Maryland. Regardless of the size of your group, or the uniqueness of your occasion, there is nothing that we can't handle! Come join us for a memorable Chesapeake Bay charter fishing experience!
Sawyer Fishing Charters and Tours
Hoopers Island, MD
Capt. Dave Schauber
1345 Hoopers Island Rd.
Church Creek, Maryland 21622
Marina Address:
1747 Hoopersville Road
Fishing Creek, MD 21634
Email: sawyercharters@yahoo.com
Updated: 06/11/2018